16 Jul

How to Maximize Good360's Bulk Donations Program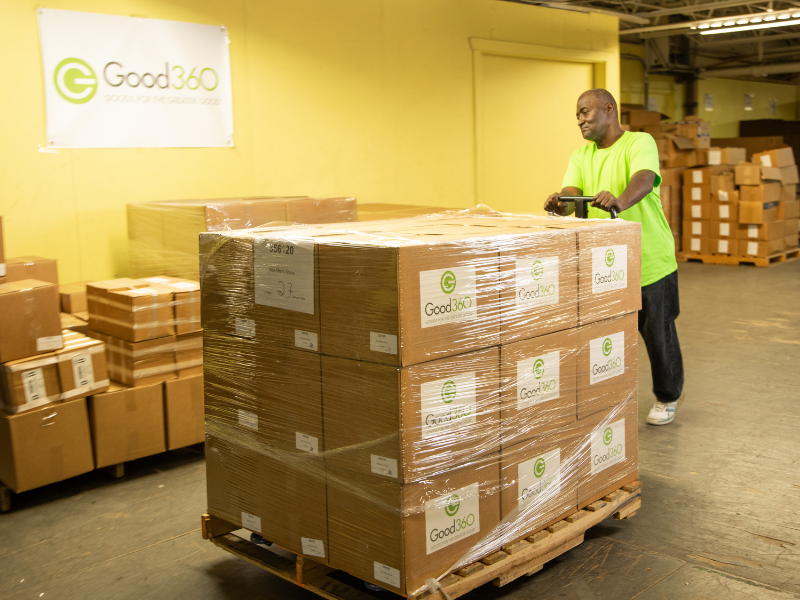 In the freight transportation business, "less than truckload" shipping refers to moving relatively small quantities of freight — anywhere from 1 to 12 pallets. 
Also known as "less than load" or LTL shipping, this service is used by businesses that don't require a full truckload or semi-trailer worth of space. LTL shipping is generally cheaper than paying to charter an entire semi-trailer and more economical than sorting and shipping many individual packages.
So, what does any of this have to do with what we do at Good360 or how we can help your nonprofit?
Actually, a lot.
That's because Good360 is able to deliver bulk amounts of donated product directly to your nonprofit via LTL shipping. What this means for you is the ability to obtain more donations with fewer shipping costs. Our bulk items average an additional 30% savings off the admin fees for donations that are available by the carton (which themselves are made available to you pennies on the dollar compared to what you would need to pay at retail).
The lower your shipping costs, the more funds your nonprofit can set aside for direct programming and services to serve your community.
To read more about why Good360 charges fees on donations and how they help nonprofits like yours do more, click here.
How our Bulk Donation Program works
To take advantage of our Bulk Donation Program, you first need to be a qualified nonprofit or charity, and be registered as a Good360 member. It's free to register. 
As a member, you can get donated goods such as personal care, toys, furniture,  clothes, computers, and more delivered right to your organization. We are able to source these donations at scale because of the long-term relationships we have developed with our corporate donors. 
Nonprofit organizations can access these donations in several ways. Our bulk donations are offered through our online catalog, where you can find donated products in more than a dozen categories and have them shipped directly to your door.
All bulk donations are delivered on a pallet. A pallet is a 40" (L) x 48" (W) cargo platform and requires a forklift or pallet jack to be moved. On average, each pallet will have donations stacked to a height of 45" and is often shrink-wrapped. There may be multiple cartons stacked together or contained into one large, cardboard box (called a gaylord). 
Additionally, bulk donations at the pallet level are eligible for even more savings on admin fees when you order 2 or more, in any combination. All donations by the pallet found on our Bulk Donation page are eligible for these significant savings. Check this page often to see which items are being offered as bulk donations.
Bulk donations from Amazon are also available
Through our partnership with Amazon, Good360 is now able to offer bulk donations of products in 15 different categories, from baby care to kitchen supplies to home improvement. Donations from Amazon come from first-quality, unused or barely used customer returns. By sorting Amazon's huge diversity of donated products into more manageable categories, we are able to offer nonprofits an easier way to make use of these donations from the retailing giant.
You must order at least two pallets to take advantage of the Amazon bulk opportunities. These order minimums help us keep costs down to ensure lowest admin fees possible. Each pallet is unique, offering a mix of products within the category. They are a resourceful way to obtain an assortment of items.
Please keep in mind that to minimize cost we sort items for these pallets very quickly and they are subject to human error. Up  to 20% of your items could be outside of the category that you have selected.
Tips for making the most of our Bulk Donations program
Here are some things to keep in mind so you can get the best experience from our program:
Check our bulk donations page frequently. Items come and go quickly, so be ready to jump on the items you really want. Items for the Amazon program are frequently replenished as well.

Set aside room in your operating budget so you're able to source these bulk donations quickly. Pallet orders usually start at $450 and average several thousand dollars in fair market value (what you would pay if items were purchased at retail), although some pallets can be worth tens of thousands of dollars. 

If you do not have a loading dock at your warehouse or facility, you must order liftgate service to enable manual unloading. A liftgate is a platform at the back of certain trucks that can raise and lower a shipment from the truck to ground level. We charge a nominal fee for the

liftgate service

.

Turn bulk deliveries into volunteer events. Amazon pallets are all unique and you will want to sort through them. This is an excellent opportunity to engage your volunteer network and make the unpacking process  a fun event!

Please keep in mind that we can only deliver to business addresses.
If you can plan ahead and budget accordingly, our Bulk Donations Program is an excellent way to stretch your dollars, get more needed goods for your operations, and increase your overall impact. You'll enjoy savings on items discounted 80 to 90% from their fair market value. And you'll be able to better serve your community. It's a terrific win all around.