17 Jan

Good360 Distributes More Than $2.5 Billion to Help Close the Need Gap in 2022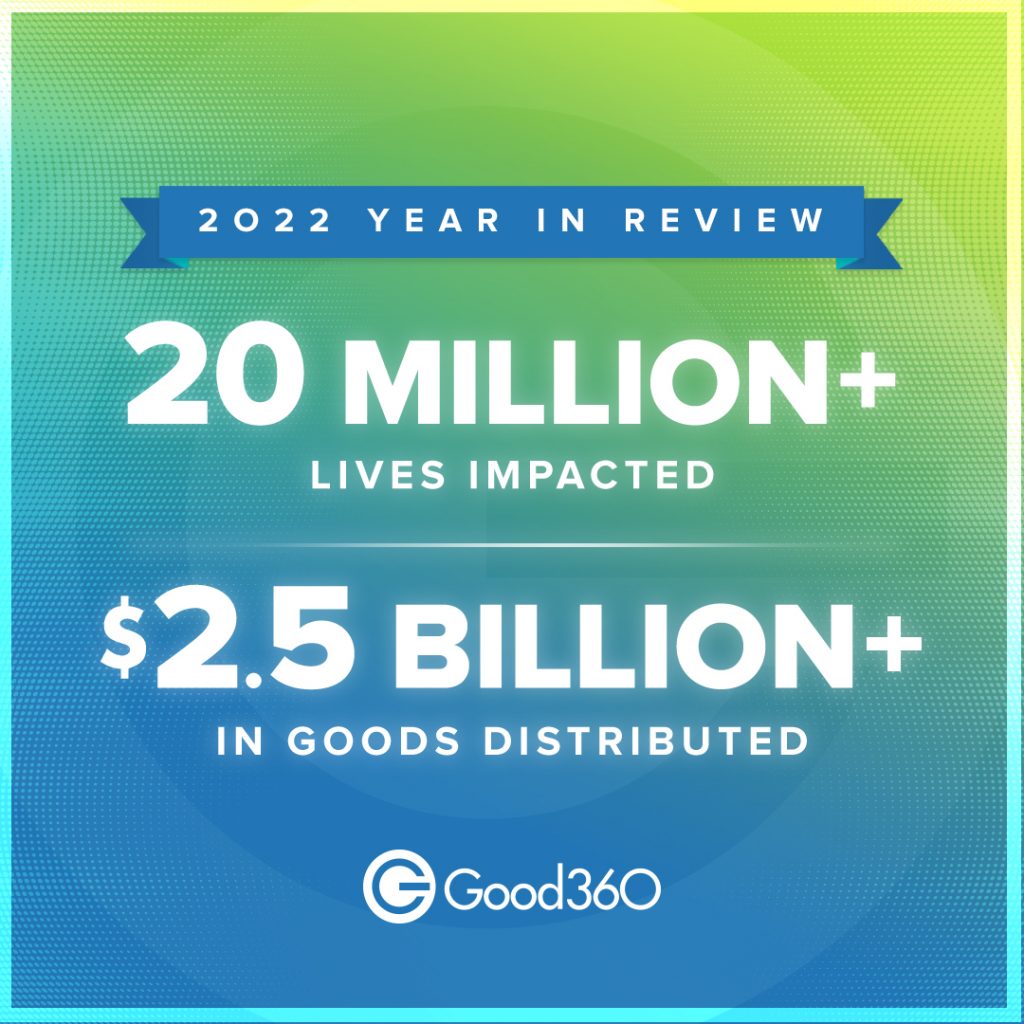 Product Philanthropy Nonprofit Leader Marks 40th Anniversary on the Heels of Another Record-Breaking Year of Impact
Alexandria, VA, January 17, 2023—Good360, the global leader in product philanthropy and purposeful giving, announced today that it impacted more than 20 million people in need in 2022 by distributing more than $2.5 billion in essential items.  With a 42% increase in the number of lives impacted compared to 2021, Good360's landmark year sets the stage for 2023, when the organization's will mark its 40th anniversary, reinforcing its decades-long commitment to bridging the ever-widening gap between those with plenty and those without enough to get by.
As these needs are being felt acutely around the world, socially responsible companies with an abundance of goods are looking for a better way to give back. That's where Good360 comes in. Corporate partners donate new or like-new product such as apparel, housewares, linens, shoes, toys and more, and Good360's network of more than 100,000 vetted nonprofits can get goods they wouldn't have access to otherwise, allowing them to do the most good for the people they serve.
"For 40 years we have been able to provide essential goods to people in need thanks to the generosity of our corporate donors, the commitment of our nonprofit partners, and the dedication of our outstanding staff," said Romaine Seguin, CEO of Good360. "I'm so proud of Good360's longevity in the product philanthropy space, as we enter this 40th year energized and ready to expand our impact even further."
On the sustainability front, Good360 extended the useful lives of more than 200 million pounds of essential items that didn't end up in landfills, or 13,000 truckload equivalents. By helping companies achieve zero-waste goals and providing access to needed goods to communities around the country, Good360 creates the opportunity for less waste.
"With supply chains snarled and retailers facing inventory gluts, this year saw the potential for tremendous waste. However, Good360 provided a sustainable solution for companies dealing with excess product, which is not only good for the planet but also for the people receiving these items," said Seguin.
In 2022, Good360 also maintained a significant footprint in the disaster recovery space, distributing more than $115 million in critically needed product to support people affected by two dozen disasters. The organization responded to disasters in six countries and 33 states, impacting nearly a million lives. Key efforts included the flooding in Kentucky and Mississippi, Hurricanes Ian and Fiona, and international efforts to help people affected by the war in Ukraine.
Good360's efforts continue to be recognized, with the organization coming in at #6 on Forbes' list of America's Top 100 Charities (up from #18 in 2021), #18 on the NPT 100 from Nonprofit Times (up from #23 in 2021), and landing on the Washington Post's 2022 Top Workplaces in the Washington, D.C. area for the second year in a row.
For more information about Good360's 2022 impact, visit here.
 About Good360
Good360's mission is to close the need gap by partnering with socially responsible companies to source highly needed donated goods and distribute them through its diverse network of more than 100,000 vetted nonprofits. In doing so, Good360 opens opportunity for those in need, for the nonprofits that support them, and for companies that donate the goods, all while keeping usable items out of landfills. Good360 has distributed more than $14 billion in donated goods thanks to corporate donors such as Advance Auto Parts, Amazon, American Eagle Outfitters, CVS Health, Gap, Inc., Levi Strauss & Company, Mattel, Tempur Sealy International, and UPS.  Good360 is a registered 501(c)(3) organization. Learn more at https://www.good360.org.