04 Jan

Horizon Group USA Donations Help Bring Out Creativity in Washington D.C. Students

The First Flight Association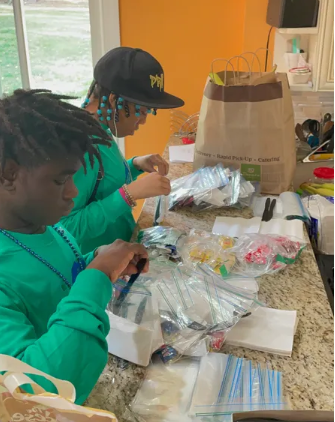 Traveling is a unique form of experiential learning. Visiting historical and developing cities helps broaden the mind, uncovers new interests, and allows for personal growth through self-discovery. But, for some children, travel costs limit them from experiencing different places. 
The First Flight Association is a Good360 nonprofit partner whose mission is to help students bridge the social-economic gap in travel. The organization provides educational opportunities and field trips through short-term scholarships awarded to students in need. Recently, team members at The First Flight Association took 14 students to the Washington National Mall to experience historical monuments and museums. While there, they discussed the importance of stewardship and hosted a food giveaway to serve people in need. 
Thanks to a contribution from Good360 corporate partner Horizon Group USA, following the trip, each student received a bag filled with various arts and crafts as well as two books to help the students continue expanding their imaginations and stimulating their minds. 
"One child got a nail kit, and she was so excited to be able to do her nails," said Jeanette Mendes, founder of The First Flight Association. "She ripped open the box right there on the spot! Thank you so much, Horizon and Good360, for helping us impact the lives of our youth." 
Another young man received a science board game. He said he "couldn't wait to go home and play with his dad." 
Thanks to Horizon Group USA's generous contribution and passion for bringing out the creativity in everyone, The First Flight Association can encourage students to find creative ways to explore the world around them and unlock their potential.