25 Sep

ALDI Eases Budget Burdens for Families in SoCal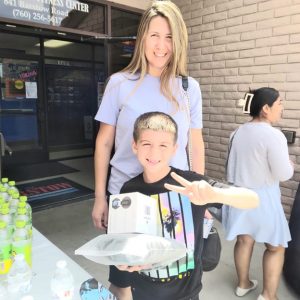 High Desert Second Chance is a nonprofit organization that provides food and other necessities to people in need throughout several counties in Southern California. Their programs include an emergency food pantry, a school lunch program, and a food waste initiative that ensures residents have access to food supplies whenever possible.
With the cost of food on the rise, people whose budgets are already stretched thin are finding that living paycheck to paycheck is becoming more difficult. Thanks to a generous donation from grocery store chain ALDI through their partnership with Good360, more than 3,000 children and adults in the High Desert Region received food items along with personal care products and other household goods, which provided them with much-needed financial relief.
The volunteers at High Desert Second Chance are dedicated to the specific needs of their communities. Donations of this size are beyond game-changing for these families. "Some of these folks work two or three jobs just to make ends meet, and they're commuting to L.A., Riverside, and beyond to do so," said David Fofiu, Vice President on the Board of Directors for High Desert Second Chance. "No matter how you get yourself to those places, it adds up fast."
One mother was visibly overcome with emotion as she picked up her basket that included plush dolls from one of ALDI's seasonal collections. She broke down  because it was her daughter's birthday, and she was going to be  able to give her a present. When the rest of the volunteers found out what was happening, they brought  birthday cupcakes with sprinkles, making it a day that no one would  forget.