17 Jun

The Logistics of Delivering Hope and Dignity: How Good360 Gets the Goods to People in Need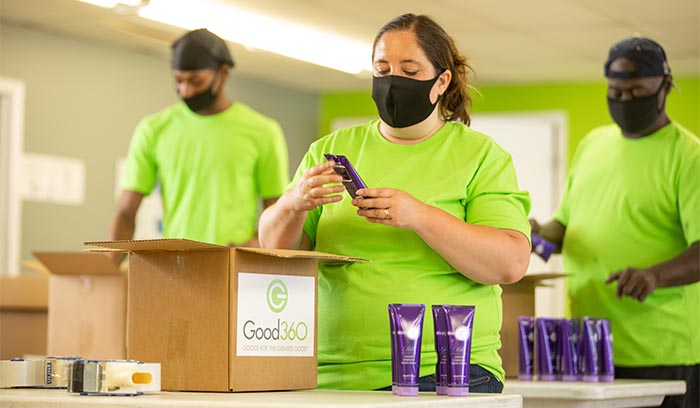 When most people think of a "nonprofit," they usually think of an organization that recruits volunteers, raises money, and advocates for a worthwhile cause.
What they almost certainly don't think about is facilitating the movement of thousands of tons of physical goods across the country and the world, sometimes into areas devastated by a natural disaster like a hurricane or wildfire. Nor do they think about coordinating with freight carriers, breaking down pallets of donated products, or sorting through thousands of pieces of apparel by gender and size.
At Good360, these are the kinds of issues we deal with every day. That's because our nonprofit organization occupies a rather unique position in the world of philanthropy. We transform lives by putting products donated by corporations directly into the hands of communities, helping close the need gap.
To do this at scale — in 2020 alone, we distributed over $870 million worth of needed goods — requires a significant logistical operation that stretches coast to coast. And we do all of this with a lean and efficient staff of just over 50 employees, aided by technology and a large network of corporate donors and nonprofit partners.
A unique, highly complex nonprofit model
We are a nonprofit organization that also needs to think a lot about something called supply chain management. That's a fancy term for the process of moving physical goods from their source to their final destination. E-commerce companies rely on their supply chains to make sure they have enough inventory on hand and to get the stuff you order online to your doorstep.
Similarly, we need to move many truckloads of donated products each year from our corporate donors through our nonprofit network and into the hands of those that need them most — not customers in our case, but a person or family in need. Along the way, we need to do three main tasks really well and efficiently:
Inventory management:

A critical part of what we do is to ensure that products that are donated by our corporate partners are properly handled, tracked, and distributed. Our donors rely on Good360 to make sure that these products go directly to vetted recipients and are never sold, bartered or otherwise inappropriately distributed. So we put a lot of effort into our

compliance protocols

.
Adding to the complexity are the various channels through which we connect nonprofits to donations, including our Retail Matching Program, Direct Truckload Program, Community Redistribution Program, and our online catalog. Each one of these channels requires different transportation and fulfillment needs.
Warehousing, storage, and sorting:

Much of the great products we get from our corporate donors need to be collected, stored, and sorted before they can be shipped out. We have invested in various facilities to efficiently enable this part of the supply chain, including our National Distribution Center in Omaha, Neb., and our Regional Operating Centers.
At our Omaha warehouse, we have employees to receive truckloads of donations that arrive daily. They break down the pallets of products and sort them into more manageable cartons. For example, we might need to sort through an entire semi-truck of mixed personal or household goods from any number of national or regional retailers. We manage this "production" process on our end so our nonprofit members only get what they need when they need it. We know that many organizations just don't have the resources to handle large volumes of donated products.
All of this work is done by our dedicated warehouse team with help from volunteers.
Order fulfillment and transportation:

While unprocessed shipments are getting sorted, we're also picking and packing orders that come in from our

online catalog

. At the same time, we might need to urgently prepare a shipment of products to a community that's been hit by a natural disaster.
Every week, we also coordinate the movement of 40 to 60 semi-trucks full of donated products. These are bound for nonprofit organizations who participate in our Direct Placement Program or part of a Disaster Recovery effort.
To get the best shipping rates, we negotiate with various carriers through freight brokers and also rely on long-term partners such as The UPS Foundation, CH Robinson, FreightPros, and Coyote Logistics.
Relationship management:

Good360 works with hundreds of purpose-driven organizations to source products that meet the diverse needs of equally diverse people. We build and maintain relationships with some of the largest companies in the world to provide access to their products to nonprofits of all sizes. Our corporate development and logistics teams also work closely with our donors to make it easier to meet their ESG and giving goals.
Running a lean philanthropic machine
At every step in the process, we are trying to be as efficient as possible. We know that every dollar we save benefits our nonprofit partners because they pay less for administrative and shipping fees, allowing them to devote more funding for direct programming.
Being in the fulfillment business can also put us in a challenging position, especially as shipping rates soar and labor costs rise. Unlike a traditional business, we can't pass on these additional costs to our "end consumers."
So we look to make improvements in our supply chain wherever we can. For more than three decades, we have been trying to perfect this logistical dance. Ultimately, the better we can deliver our goods, the more we're helping our partners do more to help their communities.