27 Apr

Good360 Collaborates with USA for UNHCR to Give Help and Hope to Refugees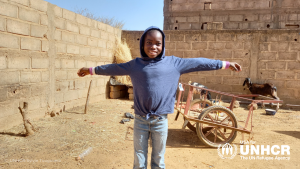 For 38 years, Good360 has been the global leader in product philanthropy and purposeful giving, ensuring that critically needed products find their way into the lives of those that need them most. 
A recent Good360 partnership with USA for UNHCR, the UN Refugee Agency, kicked off with a particularly transformative donation in Burkina Faso, a West African nation that is facing one of the fastest-growing displacement crises in the world.
According to USA for UNHCR, intense and largely indiscriminate violence in Burkina Faso perpetrated by armed actors against civilians has forced more than 2.7 million people to flee across the region, both within countries and across borders—including more than 1 million displaced persons in Burkina Faso alone.
Around the world, nearly 80 million individuals have been forcibly displaced as a result of persecution, conflict, violence, or human rights violations. The UN Refugee Agency helps these individuals seek asylum, find safe refuge, provide for their needs, and eventually repatriate or resettle. 
USA for UNHCR protects and empowers refugees with an added measure of help, hope, and home by providing life-saving essentials during all stages of their displacement and resettlement.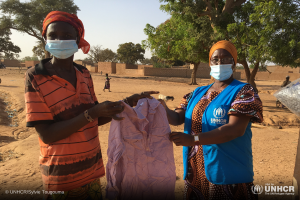 The resilient families experiencing displacement often face significant barriers in accessing even the most basic necessities. Providing new clothing to these individuals represents hope amid unspeakable hardship.
"Our innovative collaboration with Good360 is a game-changer," said Anne-Marie Grey, Executive Director and CEO of USA for UNHCR. "Providing new clothing to those we serve offers them the dignity and opportunity they deserve. These individuals were leaders in their communities, and simple acts of uplift like the ones made possible by Good360 remind them that they are leaders in their new communities as well."
Working together enables each organization to do more, more efficiently. In that same spirit, this joint venture provides new opportunities for corporate donors to leverage "duty drawback" incentives. For companies with excess products imported from overseas, the burden of duty fees can plague charitable giving plans. However, when these items are exported– reaching vulnerable populations in need significant portions of those fees can be recuperated.
Good360 has worked with its corporate donors to provide six million items of clothing to restore dignity and hope to families and individuals experiencing the devastating effects of displacement. This donation also represents our commitment to work with USA for UNHCR to uplift the lives of refugees around the world.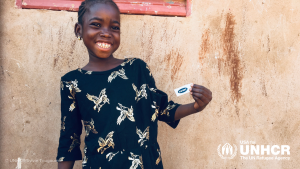 "At Good360, we combine our expert logistics capabilities and philanthropic vision to help people in need," said Matt Connelly, CEO of Good360. "When matched with the international footprint and profound impact of USA for UNHCR, our collaboration underscores the unique power of nonprofit partnerships to make change. The proven track record of USA for UNHCR allows us to work with our corporate partners to do more good on behalf of refugee communities."
This partnership has created a more sustainable model to address the UN Sustainable Development Goal 12 around responsible consumption and production and meet the immediate needs of refugees through clothing donations. At the same time, the collaboration proves to be personally transformational in the lives of displaced people facing critical need gaps around the world.