27 Aug

Good360 and Nonprofit Partners Help Thousands of Kids in Need Return to School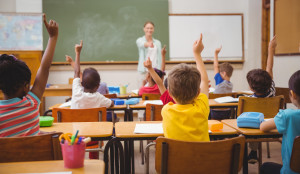 By Melissa Trumpower
Back to School is an exciting time for most families. As summer winds down, children across the country gear up with new clothes and school supplies to begin a new season of learning. For many low-income families, however, that anticipation is couched in stress.
According to the National Retail Federation, the average parent will spend about $635 on a combination of supplies, clothes and electronics. That figure can be daunting for families that are struggling to make ends meet while living beneath the poverty line. About 16.4 million children live in poverty today. While they deserve the same chance to succeed as every other child, their parents will struggle to get them the supplies they need.
Good360 works with thousands of nonprofits across the country that are working to ensure that all children receive the support and resources they need to reach their full potential. We recently reached out to a small segment of our nonprofit network to learn about what they're doing to help. The response was so great that we have highlighted just a few in this post, but also created a Pinterest Board to showcase some of the other great stories we heard.
Florida Nonprofit Combines Health Screenings with School Giveaway
Dunedin, Fla.-based Here We Grow Foundation, Inc. has combined its back-to-school activities with a health fair that provides free health screenings and a meal for families. The health screenings include vision and hearing screenings for children, as well as information about vaccinations and obesity.
"The vision screenings are important because many children have issues with their sight and parents are unaware of these issues," said Program Director Meredith Scott. "Sight issues can be the reason for barriers in the classroom that lead to poor performance."
Children who receive the vision and hearing screenings are then provided a free meal and the chance to pick up needed school supplies. Donations from Good360 and Crayola will be distributed during the event.
"We are giving away the school supplies because we know that although the school year has started here in Pinellas County, Fla., we understand that purchasing school supplies can be an economic hardship on families," said Scott. "It is our goal to assist those families that are still in need of the mandated school supplies. Thank you Good360 again for making it easier for our foundation to help others!"
Out-of-home Foster Youth in Maine Receive School Supplies, Clothing
Adoptive and Foster Families of Maine, Inc. (AFFM) is providing backpacks, school supplies and clothing to more than 300 students in out-of-home placements. The program focuses on helping youth who are not in the formal foster or adoptive care systems, but who have significant needs. Most of the generous families who are supporting these children do not receive federal or state support. As a result, oftentimes they struggle to provide for basic needs.
According to AFFM's executive director, Bette Hoxie, the program is immensely successful thanks to support from Good360 and other state and local charities.
"Thank you to Good360 for assistance with this and numerous other opportunities that have been provided to AFFM and that we in turn pass on to our incredibly caring constituents," said Hoxie.
Harlem, N.Y. Program Helps Families Prepare for School 
Harlem, New York's Faith Mission Christian Church's "Impact with a Backpack" program is helping about 70 local families prepare their children for school. Supported by church members, Good360 and local businesses, the program provides a wide range of needed supplies for children.
"This year the Crayola products from Good360 made it possible to give additional supplies to the community! The Impact With A Backpack program is not only giving children and youth backpacks, it is a demonstration of love. We believe in their success," said Minister Elizabeth Shahid.
Hear about some of the other great programs we learned about on our Pinterest Board. Do you have a back-to-school program that has benefited from Good360 donations? If you'd like to share it with us, please send details to mel@good360.org or Pin it on your own Pinterest board and include #Back2school360.
For those who'd like to donate to help Good360 support schools and nonprofits around the country, click here to provide cash donations or to donate corporate product donations.