18 Mar

Donated Bikes Bring Smiles to Children of Veterans
Military Veterans Resource Center
Colombus, OH
Website: https://milvetsrc.org/
Donor: Walmart
Lives impacted: 100
Military Veterans Resource Center (MVRC) is a Good360 nonprofit member based in Columbus, Ohio, with three more locations across the state. For 20 years, MVRC has helped veterans regain the self-reliance, independence and self-confidence they felt as service members. The organization's goal is, "to improve the quality of veterans' lives, we believe the best way to do this is to provide personalized services that address a veteran's specific needs."
Through MVRC's partnership with local Walmart stores through Good360's retail match program, the nonprofit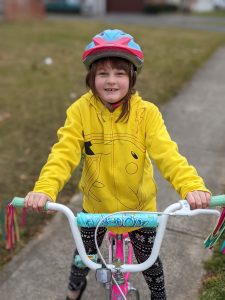 received 100 damaged bikes in 2020. With the help of a local veteran who worked in a bicycle shop in high school, the bikes were repaired and distributed to children of veterans, like Lily*.
Lily's mom is a single mother and disabled veteran. Thanks to these generous donations, MVRC was able to put a smile on her face with her very own bike.
Thank you to Walmart and Good360 for providing joy to the children of our nation's heroes.
*Name changed for privacy