01 Oct

Boxed Water Provides the Foundation for Hurricane Recovery Efforts in Louisiana

Almost 15 years after Hurricane Katrina ravaged Louisiana, Hurricane Laura made landfall as a category 4 storm as one of the strongest hurricanes to hit the state.

Hurricane Laura caused many of Louisiana's water systems to be damaged and knocked off the grid. According to Weather.com, almost a week after the storm, the Louisiana Department of Health said 62 water systems statewide were still experiencing outages, and another 136 were under a boil water advisory, meaning the water isn't safe to drink out of the tap. Combined, the outages and boil advisories left hundreds of thousands of people with limited or no access to clean water.

With a tropical climate, clean water is crucial for Louisiana especially as the state undergoes major recovery from a disaster. Additional public health concerns related to COVID-19 made it even more vital to get water to the affected areas.

Thanks to a monetary contribution from Egan's Irish Whiskey and product donation from Box of Rain, Good360 transported eight pallets of boxed water to All Hands and Hearts' makeshift warehouse near DeQuincy, LA. Box of Rain's solution provides safe drinking water to communities affected by natural disasters and emergency situations in the U.S.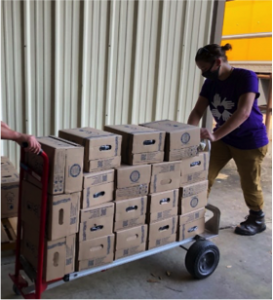 All Hands and Hearts, a founding partner in Good360's Resilient Response initiative, effectively and efficiently addresses the immediate and long-term needs of communities impacted by natural disasters. The organization communicates directly with local leaders and community members and then deploys volunteers, helping to build safer, more resilient schools, homes, and infrastructure.
To support Hurricane Laura recovery efforts, All Hands and Hearts is aiding with clearing debris, setting up an essential supply line in DeQuincy, recruiting additional volunteers, developing the tarping scope of work, and implementing training needed to repair roofs.
"The product is excellent," said Aline Guidry, Director of U.S. Operations at All Hands and Hearts. "It is a great size to take to the field and for personal consumption. We are so incredibly grateful to Good360 and Box of Rain for helping us safely serve those affected by Hurricane Laura."