02 Nov

Women's HQ and Good360 Collaboration Impacts 10,000 Domestic Violence Survivors in Washington, DC Area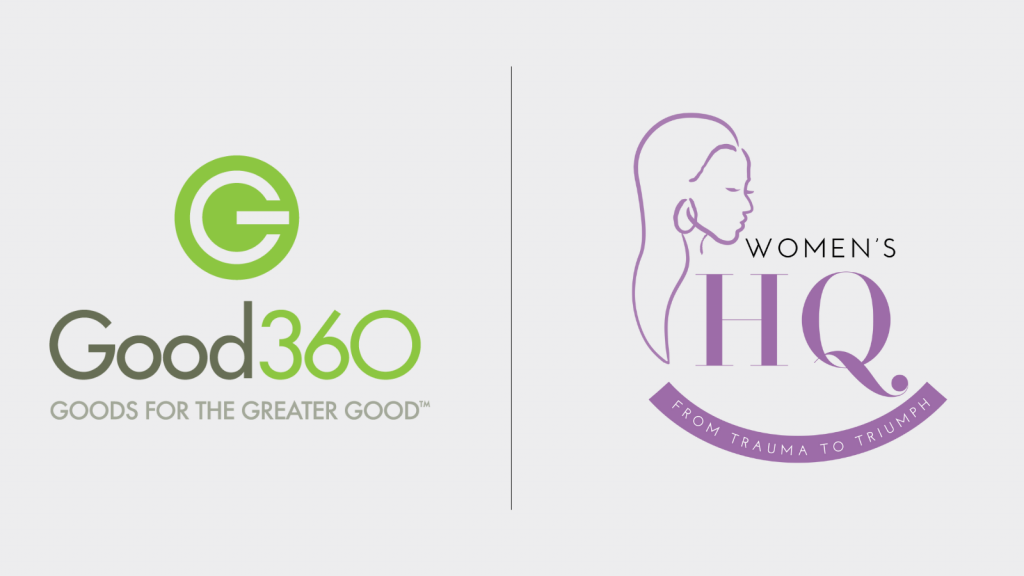 (Washington, D. C.) The following is a joint statement from Women's HQ and Good360, the global leader in product philanthropy and purposeful giving. Good360 has donated $500,000 in needed goods to be used for Survivor initiatives for Women's HQ. This donation will allow Women's HQ to put together 10,000 Survivor Comfort Kits which will include a variety of hygiene, beauty and self-care items with necessary, everyday goods for Survivors of Domestic and Sexualized Violence residing in or transitioning from shelter care.
Survivors are often forced to abandon their day-to-day care items when fleeing an unsafe home. Women's HQ sought a partner to address this practical, first step. The first Comfort Kits will be assembled and distributed on November 6, 2021.
Kimberly Harris, CEO & CoFounder at Women's HQ noted, "Restructuring women's lives after violence forces conversation. Partnerships like ours with Good360 transform those conversations into action."
Matt Connelly, CEO of Good360, said, "We are proud to work with Women's HQ to distribute essential items to the Survivors they serve, and we thank our corporate donors for supporting the cause through generous product donations.
Every Survivor Comfort Kit addresses the whole person's needs and will include new items from socially responsible brands that are making a commitment to support Survivors. With this donation, Women's HQ will distribute kits to shelters in Washington, DC and will soon scale their programming to other cities where they have secured partnerships.
Women's HQ  is committed to a holistic approach to the physical and mental well-being of the Survivors and their children, which includes wellness, career services, work to wealth and donation of essential goods to instill independence and sense of normalcy in their lives.
This donation from Good360 will allow Survivors to have comforts that may not be as accessible to them as they progress through their journey in Survivorship. Women's HQ firmly believes, "a house, no matter how transitional, is not a home without the belonging that make the family feel safe, comfortable and secure — wellness is all about healing in a welcoming environment", and this donation will allow Survivors to feel a sense of home.
###
NOTES FOR EDITORS:
Please email Elizabeth Blackney for event logistics. The assembly and distribution event will take place in partnership with the Capital Area Food Bank at their Lorton, VA location. Only accredited media will be allowed on-site, with advanced notice to ensure compliance with CDC and local guidelines to prevent the spread of COVID-19.
Women's HQ was founded in 2020, at the height of and in response to, the pandemic. Cofounded by CEO Kimberly Harris, a Survivor of domestic violence, and Operations Director Elizabeth Blackney, a Survivor of gang rape, Women's HQ developed a human rights based approach to meeting Survivors currently in or transitioning from shelter care with holistic programming.
Women's HQ serves Black, brown, and other domestic violence and sexualized violence Survivors experiencing housing instability – living in or transitioning from the shelter system in Washington, D. C.  The women we serve are disproportionately affected by systemic oppression and intergenerational trauma. Our holistic, trauma-sensitive, culturally specific model supports transformative change for each woman, her family, and our community.
Good360's mission is to close the need gap by partnering with socially responsible companies to source highly needed donated goods and distribute them through its diverse network of more than 100,000 vetted nonprofits. In doing so, Good360 opens opportunities for those in need, for the nonprofits that support them, and for companies that donate the goods, all while keeping usable items out of landfills. Good360 has distributed more than $11 billion in donated goods thanks to corporate donors such as Advance Auto Parts, Amazon, American Eagle Outfitters, CVS Health, Gap, Inc., Levi Strauss & Company, Mattel, Tempur Sealy International, and UPS.  Good360 is a registered 501(c)(3) organization. Learn more at https://www.good360.org.
STATISTICS:
One in three women globally experience domestic or intimate partner violence, or sexualized violence, in their lifetime. From the onset of the COVID-19 pandemic, rates of violence have increased exponentially as women and girls were forced to shelter with their abusers.
Violence Against Women Statistics from UN Women and the World Health Organization: https://www.unwomen.org/en/what-we-do/ending-violence-against-women/facts-and-figures
LOGOS
Women's HQ