30 Jun

Good360 Receives $100,000 Donation from Coverys for COVID-19 Response, Which Will Result in More than $1 Million in Needed Goods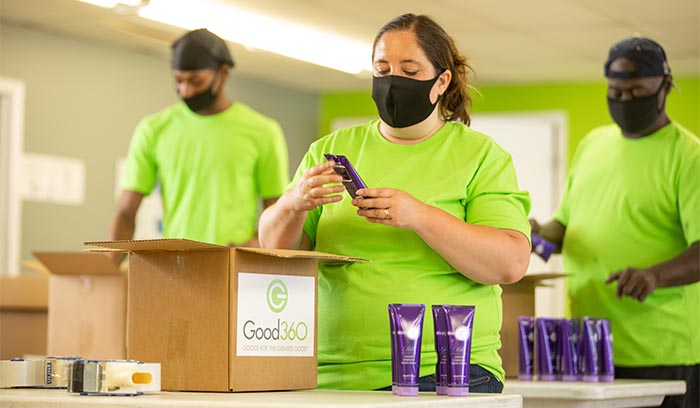 Alexandria, VA, June 29, 2020— Good360, the global leader in product philanthropy and purposeful giving, today announced that it has received a $100,000 donation from the Coverys Community Healthcare Foundation.  The donation will enable Good360 and its vetted nonprofit partners to distribute needed goods to those affected by COVID-19.
"We are grateful to the Coverys Community Healthcare Foundation for this donation, which will allow Good360 to distribute at least $1,000,000 in essential goods," said Matt Connelly, CEO of Good360.  "With tens of millions of Americans currently out of work, the need has never been greater, and we are thankful to our corporate donors for their generosity as we work together during these most difficult of times."
Since the COVID-19 crisis began, Good360 has been actively supporting individuals, families and communities across the country. This includes essential items like personal protective equipment (PPE) for healthcare workers and others on the front lines, educational materials, toys, and books for children and families in quarantine, and a wide range of personal and household items for those facing adverse economic impacts.
The Coverys Community Healthcare Foundation is an affiliate of Coverys, a leading
provider of medical professional liability insurance. "We are happy to support Good360 in providing communities and groups in need with products for COVID-19 response and prevention," said Dr. Brenda E. Richardson, Chair of the Coverys Board of Directors and member of the Coverys Charitable Giving Committee.  "By working with Good360, we know our donation will create a maximum impact for those whose lives have been affected by the pandemic."
About Good360
Good360's mission is to transform lives by providing hope, dignity, and a sense of renewed possibility to individuals, families, and communities impacted by disasters or other challenging life circumstances who, without us, would struggle to find that hope. As the global leader in product philanthropy and purposeful giving, we partner with socially responsible companies to source highly needed goods and distribute them through our network of diverse nonprofits that support people in need. Good360 has distributed more than $9 billion in donated goods around the world, helping its network of more than 90,000 prequalified nonprofits strengthen communities and improve the lives of millions. Good360 is proud to partner with corporate donors such as Walmart, UPS, CVS Health Foundation, Amazon, Advance Auto Parts, RH, American Eagle Outfitters, Tempur Sealy International, Mattel, Gap, Inc., Levi Strauss & Company, and JPMorganChase. Good360 is a registered 501(c)(3) organization. Learn more at https://www.good360.org.
About the Coverys Community Healthcare Foundation, Inc.
The Coverys Community Healthcare Foundation, Inc. provides grant funding and donations to organizations and innovative programs that improve patient care and safety, promote healthy lifestyles, and support individuals and organizations providing healthcare services. The development of the Foundation exemplifies Coverys' dedication to being an affirmative and active corporate citizen in the healthcare community and the communities in which it operates.