Operation Sharing™ Gets Kids and Seniors Moving!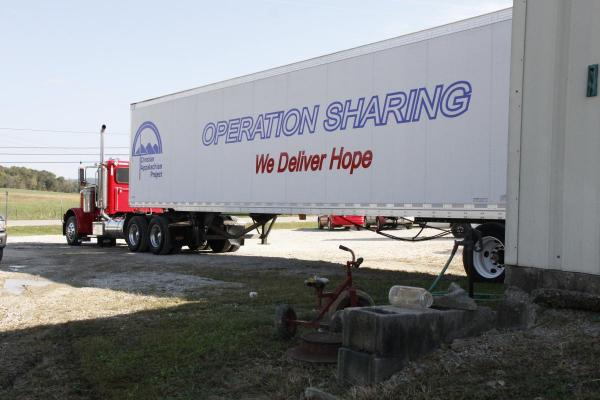 DONATION: ALL PRO EXERCISE EQUIPMENT
LIVES IMPACTED: 5,850
Christian Appalachian Project is a Paintsville, KY-based organization that is committed to improving the lives of Appalachian children, families, and seniors who are struggling to escape poverty since our founding more than 50 years ago. Operation Sharing™ is one of our programs that collects donated goods from caring partners and corporations and delivers them to the families and individuals in Appalachia who need them most. Operation Sharing has delivered more than $1.5 billion dollars' worth of donated materials to more than 1.5 million people across all 13 Appalachian states, Arkansas, and Missouri in 30 years.
High Schools in the Appalachian Regions of Kentucky and Arkansas are challenged to provide creative solutions to chronic obesity and inactivity among students. A donation by All Pro Exercise Products of Hillsborough, NJ has offered one solution to that. Operation Sharing™ has distributed 5,850 of All Pro's Weight-A-Bands® (weighted handle resistance bands) to sixteen high schools and agencies as part of our 2016 holiday gift program. The schools and agencies receiving the items span 15 counties in the Appalachian area of Kentucky with an additional pallet being sent to the Delta Region of Arkansas.
To further extend the impact of the donation, CAP also distributed the All Pro Weight-A-Bands to two "Grandparent Clubs" at two Kentucky high schools. Jeffrey Burchett, CAP/Operation Sharing Director, said, "I also have exercise bands going to some of the Boot Camp workout programs for women in our local area. These are women that want to improve their health and fitness. One woman said that she wants to use the All Pro Weight-A-Band ® to help fight off the effects of osteoporosis." Jeff added, "Another of the ladies is an avid boot camp workout participant. She said that the All Pro Weight-A-Band ® is of high quality, a good tool to improve muscle development and fitness training."
In total, All Pro Exercise Products, Inc., a wholesaler of premium products for fitness, health and wellness, donated 5,850 units of exercise/training items worth about $200,000. The donation of the fitness equipment is making a big difference in lives throughout the Appalachian Region for all ages. All Pro company owner, Scott Winston, wanted to make sure that 100% of the donated items would be distributed to individuals that would not otherwise be able to afford to purchase them. Scott added, "We are proud to do our small part to help improve the lives of those in need."
To learn more about the CAP/Operation Sharing program, please contact Good360 or Jeff Burchett, Operation Sharing, Director, at 606-523-5799 or jburchett@chrisapp.org.
Website: http://www.christianapp.org/operation-sharing