09 Dec

Walmart Donations Provide School Supplies for Children in Need

With unemployment still high due to the pandemic, many families have had to make financial sacrifices, making back-to-school shopping feel like a luxury. Educators and school administrators are struggling to make sure their students have what they need to succeed.

San Antonio-based nonprofit, Immune2Life Corporation, sought a way to help children get their school sup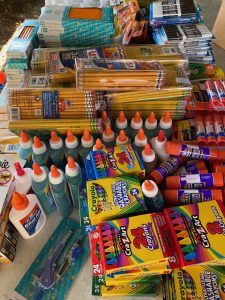 plies. Thanks to donations from a local Walmart through Good360, the nonprofit distributed the items needed to more than 600 children in San Antonio-area schools. The donations went to schools in economically disadvantaged districts.
Immune2Life Corporation was founded by Eva Garibay to provide counseling, guidance, and care for the treatment of over 200 Primary Immune Deficiency (PID) illnesses. Since the beginning of the pandemic, the organization expanded to reach out and meet the needs of their community.
Thank you to Good360, Walmart, and Immune2Life Corporation for making education accessible to all and bringing a sense of normalcy to students this year.