14 Dec

Walmart Donations Bring Relief to Chicago Families in Need

As COVID cases continue to increase in the United States, some cities around the country are tightening restrictions again. Inevitably, this leads to further layoffs and reduced hours for employees. At the beginning of November, Illinois had the highest weekly increase of initial claims for unemployment benefits among all the states.

With so many people out of work, nonprofits are working overtime to meet their communities' needs. The Open Arm Foundation (OAF) has helped families in the Chicago area through multiple initiatives, including a food donation drop-off, senior an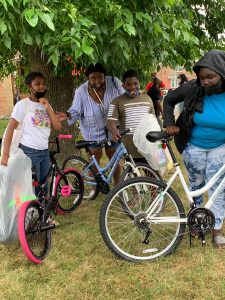 d homeless outreach, and a mobile essentials pantry.
Thanks to its partnership with Walmart through Good360's retail matching program, the OAF provided housewares, cleaning products, and toys to over 200 people in need. One recipient, a mother of four who had her work hours reduced due to the pandemic, broke down in tears with gratitude. Her family received hygiene and personal care products, as well as bikes for each of the children.
Thank you to Good360, Walmart, and the Open Arm Foundation.