26 May

Towel Donations Provide Motivation for NYC Hospital Workers
NYC Health + Hospitals 

New York, NY

Donor: Bed Bath & Beyond 

https://www.nychealthandhospitals.org/

Lives Impacted: 3,500+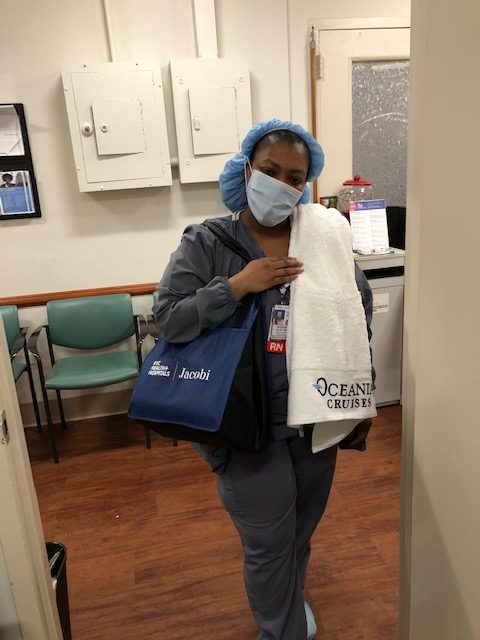 New York City has been hit hardest by COVID-19 and as a result, the NYC public hospital system needed to respond accordingly. Since March 3, approximately 44,000 people have been hospitalized in New York City for COVID-19 and many more individuals have passed through the doors just to get tested.
As supplies were drained, one of the most requested items from the hospital system stayed consistent –towels. When Bed Bath & Beyond heard about this need, the company immediately offered to help and donated more than 3,500 towels. These towels were distributed through Good360 across 13 hospitals in all five boroughs and used for a variety of purposes including the sanitation of medical items, drying after patient showers and appreciation gifts for hospital staff members.
Jacobi Medical Center in the Bronx wrapped the towels in fancy ribbon and included it in gift bags for healthcare workers, who worked overtime to keep up with the need as a result of COVID-19. According to Donna Geiss, Director of Patient Experience at Jacobi the staff loved them and were extremely touched by the donation.
Thank you Bed Bath & Beyond for answering the call to help and supporting NYC public hospitals in their time of need.
NYC Hospital 

 

Location 

 

Seaview 

 

Staten Island 

 

Bellevue 

 

Manhattan 

 

Metropolitan 

 

Manhattan 

 

Jacobi 

 

Bronx 

 

Lincoln 

 

Bronx 

 

North Central Bronx 

 

Bronx 

 

Carter 

 

Queens 

 

Coler 

 

Queens 

 

Roosevelt 

 

Queens 

 

Woodhull 

 

Brooklyn 

 

Coney Island 

 

Brooklyn 

 

McKinney

 

Brooklyn 

 

Queens 

 

Queens