04 Mar

Tempur-Pedic Steps in to Assist in the Long-Term Recovery Efforts in NC

DONATION: TEMPUR-PEDIC MATTRESSES

LIVES IMPACTED: 440

It has been over four months since the flood water from Hurricane Matthew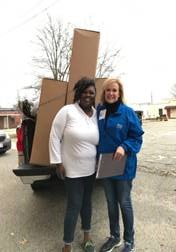 damaged or destroyed approximately 2,000 homes in Robeson County, NC. More than 600 families have only recently moved from temporary shelters to more permanent housing. Good360 was able to connect Tempur-Pedic with our organization at the perfect time and donated over 220 mattress to the families who are finally getting back into their homes.
Onedra Smith (pictured) lost the entire contents of her home from the water damage. When she returned, her home was fixed, but completely empty. This donation helped make her house a home once again.
Thank you for helping residents like Onedra see hope in the future and thank you for helping the United Way of Robeson County in our efforts to support them as they rebuild their lives.
Website: http://www.unitedwayrobeson.org/