15 Aug

SKIMS Donations Uplift Women in Need

Community Healthcare Network – NG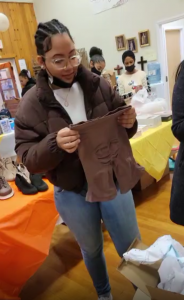 Community Healthcare Network-ng (CHCN-NG) is dedicated to eliminating healthcare access and quality disparities for vulnerable and marginalized populations. An essential part of healthcare is seeing the patient as a holistic individual and considering mind, body, and spirit.  As part of an effort to empower women in their community and build their self-esteem, CHCN-NG distributed self-care items to women in need at a local Christmas giveaway event in Spring Valley, New York, this past December.
Thanks to a generous donation of women's shapewear and undergarments from Good360 corporate donor, SKIMS, more than 100 women went home with quality items. One woman shared, "I loved the clothing. I'm so happy to be chosen for the donations!"
Another recipient came to the event with her five children and cousins. She was glad to spend time with family and receive much-needed food and items for the children, and she was overjoyed that there were donations for her as well. Receiving high-quality items, like SKIMS, is an important reminder for these women that they matter.