20 Jul

Seniors Stay Smiling and Organized
DONATION: BURT'S BEES FACIAL TONERS & HAND CREAMS AND POST-IT NOTES AND PLANNERS
LIVES IMPACTED: 25
In Demorest, Georgia, the Habersham County Senior Center serves as a community hub for activities designed to help our county's older residents maintain their dignity, to support their independence, to encourage them to stay active physically and menta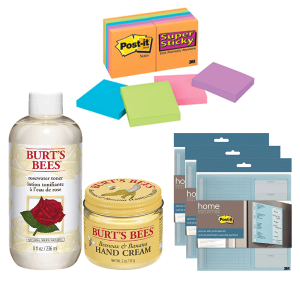 lly and to remain in their communities.
We recently received some products from Good360 and wanted to say thank you to Burt's Bees for the donation of Burt's Bees Facial Toners and Hand Creams. Our seniors loved the products!  We are a rural community center for seniors (60+) and the products were distributed to those in need who attend the center and who generally wouldn't have access to these kinds of products.
Our recipients were happy to have access to a natural line of skin care products and the response to the Burt's Bees items was universally enthusiastic, including "I love this cream, it makes my skin feel soft" and "I like that the products are all natural."
We also wanted to thank 3M for the donation of Post-it Notes and planners – our seniors loved these items as well and they are the perfect example of a product that is needed on a regular basis and that helps our folks stay organized day to day.  The seniors at our center used these for planning purposes and it helps them to stay on schedule throughout the day.
Website: http://www.habershamga.com/seniorcenter.cfm