25 Jan

Secret Santa Donations Bring the Gift of Healthy Living

My Brothers and Sisters (MBAS) is a community outreach program founded by Kimberly Cox, with the mission to "mend and nurture family relationships through entertainment, mentoring, artistic expression, and embracing cultural diversity." The nonprofit hosts events to strengthen and empower families and work with at-risk youth to stay out of the juvenile justice system.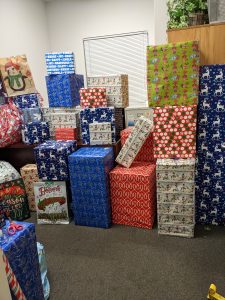 MBAS volunteers see first-hand the struggles of their community dealing with a global pandemic, as well as the effects of a record-breaking hurricane season. To uplift families in the area, the organization hosted a Secret Santa event for those living in local housing projects in Pensacola. Volunteers wrapped donated household goods from Bed Bath & Beyond that were sourced from Good360, and residents were able to pick up the surprise items.
The donated goods were especially meaningful to many of these families that lost everything due to hurricane damage. One mother of three came to pick up items and received a box that included a Ninja Foodi appliance with multiple functions. One of her daughters is prediabetic and struggles with overeating, and the mother has been looking for ways to introduce her daughter to healthier lifestyle habits. With the new appliance, she is empowered to try nutritional recipes and teach her children to have a better relationship with food.
Thank you to My Brothers and Sisters, Bed Bath & Beyond, and Good360 for taking care of families in need throughout this difficult year.