22 Dec

Royal Family Kids Camp Brings Holiday Cheer to Foster Families
Royal Family Kids Camp #165
Lovejoy, GA
Lives Impacted: 105 foster children
Children in the foster care system are placed with new families at all times of the year, and the holidays are no exception. It can be a stressful transition, and many foster parents are already stretching their dollars so shopping for gifts can be a challenge. To make this time of year a little brighter for these families, Royal Family Kids Camp (RFKC) in Lovejoy, Georgia, hosted the "Royal Christmas Drive Through" event on December 12.
RFKC sourced toys from Good360's catalog. Volunteers then wrapped and distributed the donations to 36 foster families that lined up in their cars. Santa even stopped by to help!
One father who currently has three foster children just learned he would be taking in two more so he was extremely grateful for the gifts as a way to make the children feel welcome and cared for. Another recipient, a foster mother who just had surgery, was not able to go Christmas shopping this year so the pre-wrapped gifts were a blessing.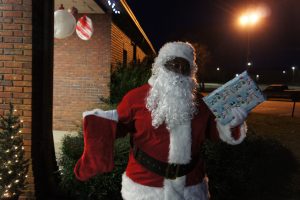 Royal Family Kids Camp is a nonprofit organization based in Clayton County, Georgia, dedicated to "making moments that matter for foster children." The organization provides a weeklong summer camp for foster children; as well as organizes the Lovejoy Mentoring Club where mentors and kids in the club meet at least once a month to create fun memories and have a positive role model to look up to.
Thank you Royal Family Kids Camp and Good360 for spreading joy this holiday season.