06 Nov

Outerwear Donation Prepare Veterans for the Change of Seasons
Veterans Life Changing Services, Inc.
Gary, IN
There are approximately 40,000 veterans without stable housing on any given night in the United States. These men and women bravely served their country, but without receiving the proper support when transitioning back into civilian life, this grim reality has become widesprea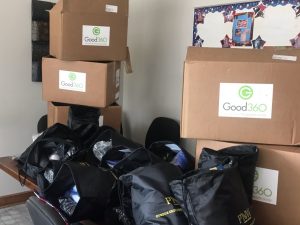 d.
To address this disheartening statistic and help the people who have given so much for this country, organizations like Veterans Life Changing Services Inc. (VCLS) assist veterans without housing. VCLS is dedicated to assisting Northwest Indiana and Illinois servicemen and women as they transition back into civilian life. The organization also provides temporary housing, as well as support services for veterans insecuring stable housing and employment.
This past September, VLCS distributed essentials to nearly one hundred homeless veterans. Thanks to donations from Good360, the nonprofit provided veterans with backpacks filled with fleeces, winter jackets, hygiene packs, gloves, hats, scarves, pillows, blankets, and reusable masks.
As the seasons change and temperatures start to drop, every layer matters when a person does not have proper shelter. The backpacks help equip these veterans for unpredictable weather. One U.S. army veteran explained, "I've never had anyone help me the way this organization has come to my rescue. I needed that jacket and those gloves! I want to work, and I was thinking if I got a job, how would I keep warm when it gets cold, and now I don't have to worry about that!"
Thank you to Good360 for helping VCLS take care of our veterans.