06 Jan

NYC High School Student Starts Nonprofit to Empower Individuals Experiencing Homelessness

One evening last year in New York City, Chloe Trujillo was walking home from dinner with friends when her phone died. Unable to look up directions to the nearest subway station, the teens tried their best to navigate on their own. A man noticed their lost expressions and offered to help. He walked ahead of the teenagers and directed them to the nearest metro stop. Surprised by the kindness of a stranger, Trujillo asked why he felt the need to help. The man explained he lived on the streets and knew how unsafe it is so he took it as his personal duty to direct lost individuals back on their intended paths.

This act of kindness sparked Trujillo to help her neighbors without stable housing. What started out as a couple of friends passing out toiletries to homeless individuals around the neighborhood has turned into SustainABLE START, a nonprofit comprised of more than 80 high school students working together to help the city's homeless.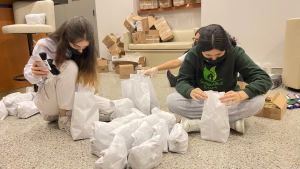 Thanks to donations sourced from Good360's catalog, SustainABLE Start has helped more than 9,000 people in 2020 alone. The organization assembles "starter kits" which include essentials like deodorant, toothbrushes and toothpaste, wet wipes, socks, hand sanitizer, a reusable mask, menstrual products, and a guide for resources available in NYC. The nonprofit seeks to empower and protect New Yorkers experiencing homelessness, with an emphasis on sustainability, prioritizing eco-friendly products with minimal packaging and ethical labor.
Team members assemble the starter kits themselves, handing them out to individuals on the street, as well distributing through homeless shelters to maximize impact. Among the thousands of people who SustainABLE Start has helped, there are individuals that leave a lasting impression. One woman was found crying outside of a soup kitchen, it happened to be her son's 16th birthday and she couldn't afford to buy him a gift. She was so grateful to be able to give him clean socks and a new toothbrush and toothpaste thanks to the starter kits.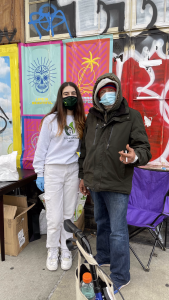 Another recipient was a man who has been homeless for years. Currently, he's been living in a subway station while his wife stays at a nearby women's shelter. In the time he has been homeless, he's noticed that, "hygiene is the last thing to go before a person loses the will to take care of themself and strive to get out of their situation." He was grateful for the toiletries, especially as he is trying to gain employment and knows the importance of a presentable appearance.
Another individual SustainABLE Start has provided items to is a woman who has been living outside on a park stage with approximately 20 other people. With the COVID-19 pandemic, she noted how shelters have been a hotspot for the virus so she has avoided staying in one, opting for the outdoor stage that semi-protects her from the elements. During their interaction, the woman explained she is a veteran, but she has lost most of her friends from her platoon due to PTSD. She herself struggles to accomplish day-to-day tasks like maintaining her personal hygiene, which she realizes is especially dangerous with the threat of COVID. The sanitizer and wipes were greatly appreciated to alleviate some of the stress of finding a clean bathroom to wash up.
SustainABLE Start continues to grow every day, reaching more individuals in need and providing essentials and kindness to empower and protect them during these challenging times.
Thank you to Good360 and SustainABLE Start for being there for those in need.