20 Apr

Natural Disasters and a Public Health Crisis Will Not Stop a Good360 CRP from Helping

Arkansas Early Learning
Jonesboro, AR
Donations/Donor: United Airlines, Nice Pak, The UPS Foundation, Hasbro, GAF
Lives Impacted: 4,000+
Unfortunately, natural disasters occur even when there is a public health crisis occurring.
For those living in northeastern Arkansas, the double disaster first became a reality on Saturday, March 28, 2020. Two tornadoes (an EF3 and EF1) struck that evening around Jonesboro and caused severe structural damage. Two additional tornadoes (an EF0 and EF2) hit surrounding counties April 8 that also resulted in substantial destruction. Thankfully, there were no reported fatalities or life-threatening injuries in either occurrence.
Non-essential businesses in the region had already shut down due to the coronavirus pandemic, which many residents considered a blessing. But they still had to deal with the cleanup in the age of social distancing.
Good360's local Community Redistribution Partner, Arkansas Early Learning (AEL) came to the rescue. AEL is a nonprofit organization offering life changing childcare and multi-generational family support programs to eligible families. Even though AEL's physical locations are closed to the public because of the coronavirus, the organization's 25,000 square feet warehouse is still operational.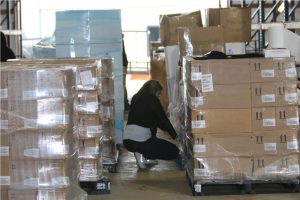 Thanks to the generous support of The UPS Foundation, Good360 provided baby, hand and facial wipes, blankets, Hasbro Play Relief Kits, hygiene kits, GAF shingles and personal care items to assist with tornado recovery efforts.
Almost 15,000 items were distributed directly to approximately 2,500 individuals in the hardest hit neighborhoods after the initial tornadoes. Altogether, almost $200,000 worth of goods have been distributed to assist with immediate tornado relief in Arkansas.
"The volunteers came in cars, trucks, and towing trailers and we all loaded the trailers and then rode through the neighborhoods together to distribute out to those in need," said Michael Patterson, CIO/Co-Founder of AEL. "We literally rode down the streets on the back of the trailers at a slow pace through the disaster zones handing out the supplies to those in critical need."
People in the region were extremely grateful for the strangers' generosity. One individual took her gratitude to social media.
"To these sweet people who came to Wildwood subdivision to pass out cleaning supplies, board games, blankets, thank you," she posted. "Y'all have no idea how thankful we are that you came out to make sure we were OK and pass out supplies!!! #jonesborostrong #ilovemycity"
The UPS Foundation, Nice Pak, United Airlines, Hasbro and GAF make it possible for Good360 and CRPs, including AEL to transform lives by providing hope, dignity, and a sense of renewed possibility to those impacted by disasters.