25 Nov

Mattresses Honor Fallen Hero and Help His Mother's Dream Become a Reality
 Darkhorse Lodge

Springville, TN
Lives Impacted: 25+
Donor: Tempur Sealy International
https://www.darkhorselodge.org
A mother's love is the driving force behind the Darkhorse Lodge, a retreat for combat veterans from all service branches, which is now in the final stages of construction.
Gretchen Catherwood began planning the Darkhorse Lodge after her son, Alec, a U.S. Marine, died in Afghanistan in 2010.
"After realizing that we had no choice but to go on, I stayed up nights, wondering what I could do for those who did come home," said Gretchen in an interview with a local media outlet. "Finding my new purpose in life has given me a reason to get up each morning and face the challenges ahead."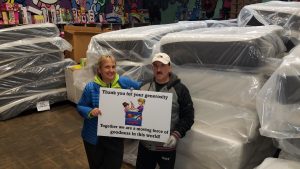 The lodge will feature five guest cabins with five bedrooms, each room named for one of the 25 men lost from the Marine Corps' 3/5, Darkhorse unit (including Alec).
Tempur Sealy International and Good360 donated mattresses for the bed frames at the Darkhorse Lodge, supporting itsmission by providing a peaceful atmosphere for combat veterans to enjoy rest, relaxation, and recreation.