15 Feb

Mattress Donations Help Family Build A New Life
One House at a Time
Philadelphia, PA
Website: https://www.ohaat.org 
Donor: Tempur Sealy International
Lives impacted: 512
Good360 works with nonprofits that are dedicated to assisting and empowering families in need across the country. One House at a Time (OHAAT) is a Good360 nonprofit partner based in Pennsylvania. Its mission is to help families establish, or reestablish, self-sufficient lives by providing them with the necessities of a functional home environment.
The organization's current focus is ending child bedlessness in Greater Philadelphia. Through its Beds for Kids program, the nonprofit provides children and youth with beds, bedding, and tools that encourage healthy bedtime habits, so they can get the quality sleep they need to thrive. The program is driven by the core belief that no child should ever have to sleep on the floor.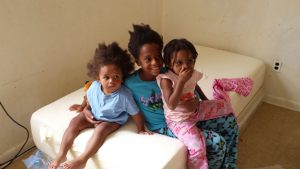 There are many agencies in the area that work with economically disadvantaged families to obtain housing; OHAAT fills the need for assistance in turning the housing into functional homes. Many families who receive housing assistance do not have the means to furnish their spaces and are forced to crowd into beds or sleep on floors and couches, leading to insufficient and poor sleep and further affecting overall health. Although sleep is identified by the Institute of Medicine as being just as important in disease prevention as nutrition and physical activity, public understanding of sleep health is lacking. Unfortunately, research estimates that there are 6,000 children in the Greater Philadelphia area that are sleeping on makeshift beds each year. OHAAT is working to change that.
Thanks to a generous donation from Tempur Sealy International, Good360 provided mattresses to One House at a Time for distribution to families in need. This donation changed 512 lives. One recipient, Ashley*, and her mom had to move out of their old apartment quickly to flee their abusive living situation. They didn't have time to pack very much and are now trying to rebuild a new life. Ashley's mom has started a new job, but most of her earnings are going towards making sure all of their bills are paid, so large items like new furniture are out of their budget. Before receiving the donation, they would both sleep on the sofa that was left in the apartment before they moved in. Now with their new beds, this family is one step closer to having a place they can happily call home.
Thank you to One House at a Time, Tempur Sealy International, and Good360 for taking care of children in need and rebuilding lives.
*Name changed due to privacy