05 Nov

Local Brand Provides Thousands of Plant-Based Milk Cartons to California Fire Evacuees
Oroville Hope Center
Oroville, CA
https://www.orovillehopecenter.org/
Donor: Ripple Foods
In August 2020, a rare lightning storm occurred in Northern California, where approximately 8,000 bolts lit up the sky and ignited multiple fires. The North Complex fire, formed by the smaller outbreaks, forced Butte, Plumas, and Yuba County residents to flee their homes. For almost three months, individuals have been displaced from their neighborhoods, resulting in a lack of access to necessities like food, clothing, and shelter.
Employees of Ripple Foods, based in Berkeley, CA, saw the wildfires burning near their community and knew they had to help. A plant-based milk brand, Ripple Foods donated more than 43,000 units of shelf-stable milk cartons to Good360, specifically to assist with wildfire recovery efforts.
Good360 placed the product with Oroville Hope Center, which provides food, clothing, and resources to the most vulnerable community members.
Since the wildfires started, Oroville's Disaster Relief Division has operated as a multi-agency distribution center to collect and deliver donated goods to several local agencies.
Ripple Foods milk cartons have been included in food boxes that were distributed to Butte County Local Assistance Center, Magalia Community Church, the Oroville Hope Center, and were handed out at numerous pop-u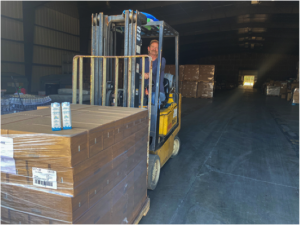 p distribution events for our local fire survivors and evacuees. Food boxes are also being given out daily through the organization's community distribution center.
"Thank you so much, Ripple Foods and Good360, for your service to our community through these challenging times," said Stephanie Hayden, founder of Oroville Hope Center. "We are so grateful to both organizations for their hard work and partnership.