06 Mar

In celebration of International Women's Day, Good360 Honors American Girl and Mattel's Commitment to Female Representation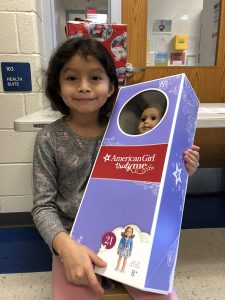 For the past four years, Good360 has worked with American Girl (a wholly owned subsidiary of Mattel, Inc.) to provide the world-famous dolls to children who otherwise may not have the chance to have one of their own. Last year alone, Good360 donated approximately $500,000 worth of American Girl dolls to thousands of U.S.-based nonprofits. This International Women's Day, Good360 recognizes American Girl and Mattel for continuing to tell the stories of past heroines while inspiring the next generation of female leaders.
Below is just a sampling of the nonprofit organizations most recently impacted by the American Girl program:
Small Things Matter operates under the simple principle that children of all ages can make a difference in our world by being kind and compassionate to others. One of the programs the organization runs is Kokua Foods, which provides 300 Montgomery County, MD families with fresh groceries and produce on a monthly basis. In December, Small Things Matter distributed American Girl dolls to some of the children in the program as holiday presents. Wendy, the youngest of four children, was shocked to receive the doll and even asked Santa Claus if she was allowed to keep it. Without this donation, Wendy would never have had the chance to experience the joy of an American Girl doll.
Elves from Adoption is Love Undefined presented three American Girl dolls to children experiencing hardships in Lima, OH. Aubree asked her grandfather for an American Girl last December. Unfortunately, the 10-year-old's grandfather passed away before Christmas and didn't have a chance to grant that wish. Adoption is Love Undefined gave Aubree her own brand-new doll, and the reminder that her grandfather is always with her. Additionally, two cousins were surprised with their own American Girl dolls. Every year, the girls, 10 and 11, would ask Santa Claus for their own dolls but unfortunately, the request could not be fulfilled because of financial constraints. That all changed in 2019 when Good360 was able to provide the donation to Adoption is Love Undefined.
Every holiday season, Acts of Compassion throws a holiday party for the homeless community in Carson, CA. In addition to getting the opportunity to play carnival games and ride a pony, all the children walk away with brand new toys. At the last gathering, one girl screamed at the top of her lungs at the sight of the iconic American Girl packaging in her bag. She had been dreaming of the moment when she would have her very own doll – this was that moment.
Thank you, American Girl and Mattel, for being valued partners and helping transform the lives of young women across the United States. Click here to learn more about Good360's American Girl program.