15 Feb

Household Donations Allow School to Take Care of Community

When many schools across the nation were forced to close their doors and move to a virtual setting due to the pandemic, we were reminded of the importance of schools within our society – not just as the place for learning, but as a center for connection and community.  

Good360 provides more than 90,000 nonprofits, schools and other charitable organizations with the items they need to make a difference in their community. Recent kitchen and bedding donations from Amazon.com and the Amazon FBA donation program with Good360 enabled the Brookings Harbor Christian School (BHCS) to help disadvantaged individuals in the Brookings community and instill a sense of social responsibility in its students. 

The kitchen items are being used by students in the school's culinary class to feed fellow students, as well as members of the community in need of assistance. BHCS' Future Farmers of America program connects the school with individuals in the farming community, many of whom are retired veterans or people with long-term limitations. With the donations, the school is able to lighten some of the burden off of their shoulders. Supplying fresh blankets or new kitchen equipment is a tangible gesture to let our farmers know that their hard work doesn't go unnoticed.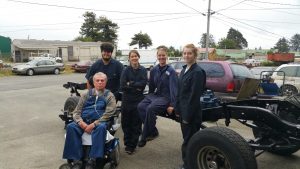 One individual specifically helped by this donation is a man with multiple sclerosis, who is now wheelchair-bound. He owns a local mechanic shop and even with his physical limitations, he wants to help students and share his knowledge of automotive repair. The school visits the shop, bringing him food, and he teaches the students all he knows. With these recent donations, they were able to give him items for his kitchen and bedroom to make his life easier.  
Thank you to Brookings Harbor Christian School, Amazon, and Good360 for providing goods to allow neighbors to take care of one another.