04 Dec

GUESS?, Inc. Provides Clothing to Those in Need as Pandemic Continues

With many Americans struggling during the pandemic, nonprofit organizations are working hard to meet the needs of their communities. Several of Good360's nonprofit partners distributed coats and other clothing items from GUESS?. Inc. to individuals and families in need across the country. Below are a few examples of the positive impact the donations have made.

Glory Organized Company (GOC) is a nonprofit serving DeKalb C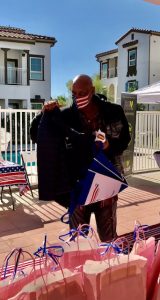 ounty, Georgia. The organization supports its community through job training, educational programs, as well as food and essential goods distributions. Thanks to a generous donation from GUESS?, Inc. GOC provided coats to the local homeless community to prepare for the approaching colder weather. More than 20 people benefited from this donation.
The Volunteers for Veterans Foundation assists active and retired veterans and those transitioning into civilian life. Based in Fontana, California, the nonprofit hosted a Veterans Day event at the Loma Linda Veterans Village where 40 veterans received outerwear. Many of the veterans had previously been homeless. One veteran who received a new jacket had just received a HUD voucher allowing him to move into the housing complex. He was so grateful to receive the coat and other household necessities to go into his new home.
The Kid's Closet Ministry in northern Indiana is one way the North Judson United Methodist Church provides for their community. The ministry works with the Starke County School System and the Department of Child Services to assess and meet the needs of the youth they serve, from birth to age 17. M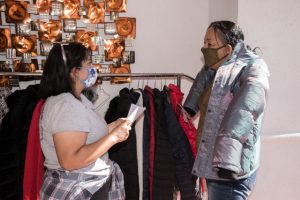 any children entering foster care take only the clothes on their backs and a plastic bag of their possessions with them to their new home. The KCM seeks to instill confidence and self-worth by providing foster children with clothes and other essentials. With the GUESS?, Inc. donations, over 300 children received clothing from the program since August 2020. Linda Lewandowski, director of the Kid's Closet Ministry, has so many instances of children being excited to receive brand new clothes, the experience being a wonderful break from a traumatic situation. One boy who received a new coat was so excited to have his own that he refused to take it off even when indoors.
Thank you Good360 and GUESS? Inc. for providing warmth and comfort to those undergoing challenging life circumstances.