19 Feb

Good360's Donation Provides Toys for More Than 100 People at Christmastime
Footprints Around the World, Inc.
http://footprintsaroundtheworldinc.com

Lives Impacted: 100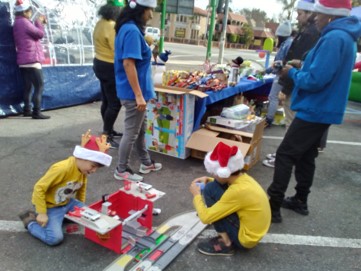 Since 2015, Footprints Around the World, Inc. has been dedicated to providing help to the homeless and low-income families in communities in Los Angeles. We received a donation of children's clothes, shoes and toys from Good360 that we used for our Christmas toy giveaway.
These donations help solve so many financial problems because there are many homeless and very low-income families in South Los Angeles. With the toy giveaway we were able to help more than 100 children receive presents at Christmas. They had a variety of toys to choose from and they could pick three toys each. The constituents where so grateful, and some of them explained to me that they did not know if their children were going to have a Christmas this year because they had no money to purchase toys. After the toy distribution event they were empowered by the hugs and smiles that their children gave them, filling the Christmas season with joy.
There are many touching stories of how this donation impacted the lives of others. One mother with three children living in a shelter who came from downtown Los Angeles said that if it had not been for Good360's donation to Footprints, she did not know what she was going to do. She explained the hard times that they were having and did not want to let her children to go without toys on Christmas. There was also a man and his daughter who traveled from Inglewood on the bus and they left the event joyful, happy and grateful for the items they received. He said that he was a single parent trying to make ends meet but did not have enough money for Christmas, but at the event he was able to get toys for his daughter and that she was happy.
Thank you to Good360 for providing us with the items that we used for our Christmas giveaway. Together we made many people joyous during what could have been a very difficult time of year.