04 Apr

Good360 Teams Up With Corporate and Nonprofit Partners to Help Hurricane Maria Survivors

DONATION: GOOD360 RESPONSE KITS

LIVES IMPACTED: 200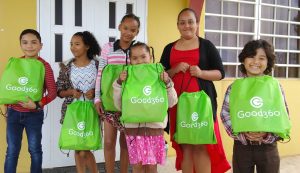 On a devastating Wednesday in September 2017, Hurricane Maria swept across the island of Puerto Rico, leaving massive loss and destruction in its wake, including flattened homes, erased roads, and the destruction of hundreds of electrical transmission towers. As the 6-month anniversary of the storm approaches, 16% of the island still remains without power and residents are struggling to fulfill their physical and emotional needs.
Good360 has been responding to the myriad needs of the communities in Puerto Rico since the storm first hit. Solar generators, mattresses, personal care items and cleaning supplies have all gone to assist the survivors and to aid in the recovery process. Most recently, Good360 held a kitting event that brought together multiple organizations to build and send Good360 response kits to children in community centers on the island.
Good360 team members and volunteers from Charles River Associates met at the Child Care Aware headquarters in Arlington, VA to pack the kits to send to our nonprofit partner, Adventist Development and Relief Agency (ADRA), in Puerto Rico. The kits included products such as Mattel Imagination pads, markers, crayons, bathing cloths, water bottles, socks and hand sanitizer. The Charles River Associates volunteers also crafted handwritten letters to go in the packs with well wishes to the recipients.  The event was an excellent example of what collaboration across sectors can accomplish. With Child Care Aware offering their facility for the event, Charles River Associates bringing the volunteers and Good360 providing the product, we were able to execute an event that bridged the gap between sectors and ultimately benefitted the people of Puerto Rico during a critical time of need.
Once the bags were packed and finished, the volunteers loaded them in boxes to be sent to ADRA, in Puerto Rico. ADRA then distributed the packs to children in community centers all across the western side of Puerto Rico. Every child received their own kit filled with goodies that will help support their physical and emotional needs. Good360 will continue listening and responding to the needs of communities that have been affected by this disaster. We are dedicated to providing what is needed and working across sectors to ensure that the right product is being delivered at the right time in the disaster recovery process.