29 Jul

Good News for Cancer Patients Comes in Our "Care Packages"
DONATION: CLOTHING FROM H&M, TALBOTS, AND GUESS; HOME GOODS FROM BED BATH & BEYOND, TOYS FROM DISNEY
LIVES IMPACTED: 40
At  first, the thick accent and shaking voice on the phone sounded like an emergency. But then joy came through. The caller, a Stage IV breast cancer patient from Florida, had just tried on her new red H&M blazer and coordinating slacks from Talbots. "It fit me perfect," she said.
She is one of about 450 low-income cancer patients across the country who have received "care packages" from the American Association for Cancer Support, many filled with products from Good360 corporate donors.
New Guess jeans won't cure cancer. Nor will fresh sheets from Bed Bath & Beyond, dishes from Pottery Barn or children's toys from Disney. But we put our hearts into every item we send, because we understand the link between these high-quality items and a higher quality of life for the people we serve.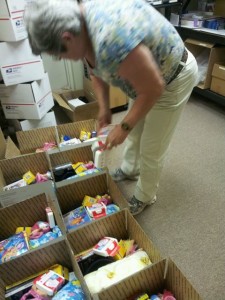 Cancer and financial hardship often go hand in hand, not just because of treatment costs. Illness can mean job loss and disability pay that barely covers the basics. Less money often means poorer quality food or no school supplies for kids.
Patients across America write or call us with their needs. We contact their medical providers to verify their health and financial status. Then our volunteer senior citizens personally select items to send from our shelves. Many patients receive products regularly.
Donated products from Good360 arrive already inventoried and assigned a fair-market value, so our volunteers can immediately sort and store them. Our volunteers also use creativity to patch and mend where needed. A daub of wood glue, for example, turns a store return into a cancer patient's treasured jewel box.
We know every dollar saved in one place is a dollar left to spend where it counts. Cancer patients deserve good news like that.