09 Oct

Getting What You Need for Your Nonprofit Organization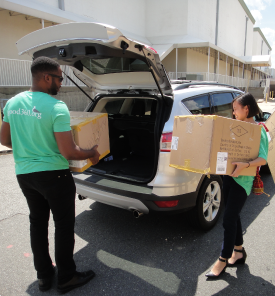 Nonprofits are regularly faced with basic operating needs that are not always easily filled. When looking for essential products, these organizations have a variety of strategies to find the goods they require.
Good360's Retail Donation Partner (RDP) program affords both companies and nonprofit groups the opportunity to work together in identifying and filling these gaps – a win for both. With the RDP program, qualified nonprofit organizations are paired with retailers in their local communities to directly receive donations such as returned merchandise and overstocked goods.
Companies benefit from this partnership in a number of ways. For example, they can reduce their carbon footprint, and give back to their communities in an efficient and sensible way. Employee morale and productivity have also been shown to improve dramatically when their employer is engaged in causes that benefit others. Companies also don't have to ship returns and overstocked items back to a central return center to be sorted – saving costs.
Nonprofits benefit by not only being able to pick up valuable products to assist in their mission, but also by building a relationship with the company and their employees.
Numerous retailers participate in the RDP program, including stores such as The Home Depot, Disney, Bed, Bath and Beyond and Williams-Sonoma. In fact, Good360 works with 125 companies on the Fortune 500 list.
Nonprofits can join the Good360 network of over 40,000 pre-qualified charities for free. This network is then matched with hundreds of companies looking for causes to support via in-kind gifts of products. The result? Nonprofit groups are supported by their local businesses, gaining awareness of their individual missions and expanding the meaningful work they already do.
Each year, Good360 distributes over $300 million in goods to nonprofits in need, helping 100 million people in the process. As a result, we were named one of Forbes' Top 10 Most Efficient Charities. We value the work that nonprofits do to help support both individuals and meaningful causes, and we are committed to helping these groups obtain the products they rely on to continue their busy operations.
Ultimately, there are numerous ways in which nonprofit organizations can utilize community partners in donation assistance, and these partnerships are vital to producing purpose-driven results. Together, both parties are enriched by the experience, and their mutual communities are strengthened in the process.
---
[mk_social_networks twitter="https://twitter.com/richardbarney" linkedin="https://www.linkedin.com/in/rbarneyCauthType%3ANAME_SEARCH%2Cidx%3A1-2-2%2CtarId%3A1439387578036%2Ctas%3Arich"]
Richard Barney, Good360's EVP of Business Development, is responsible for working closely with corporate partners to create programs that help them do good, better. Richard brings years of business-to-business sales and leadership experience to the nonprofit world and is tasked with ensuring that corporate partners realize a strong ROI from their partnership with Good360.