08 Mar

Ferguson Appliances Help Create Supportive Housing for Community In Need

Habitat for Humanity Yuba/Sutter's mission is "to end homelessness by providing sustainable housing in Yuba and Sutter counties." The nonprofit's newest housing project is Harmony Village, a 62-unit permanent supportive housing community converted from a hotel. The program primarily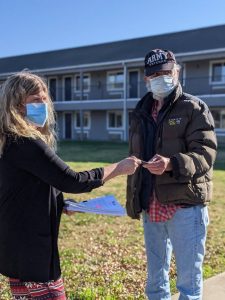 serves formerly homeless elderly individuals and disabled veterans. Utilizing recent donations from Ferguson sourced through Good360, Habitat for Humanity Yuba/Sutter renovated the former hotel rooms to make them suitable for long-term living, creating studio apartments with functioning kitchenettes. Donated appliances, bath tubs, and fixtures were used for the apartments, as well as to renovate a communal club house where residents will be able to read, enjoy coffee or tea, and socialize with their neighbors.
This past December, Harmony Village officially opened and the first residents moved in. Joseph Hale of Habitat for Humanity Yuba/Sutter has been working to make the vision of Harmony Village a reality, and is grateful for the donated appliances, explaining, "I think the items really helped in normalizing the situation that many homeless individuals deal with by having items that were in good condition and high quality brands. I think even these simple things help provide a sense of value to the underserved in our communities."
Many of the people living at Harmony Village are eager to share their stories and inspire others to reach out for help to break the spiral of homelessness. Hale spoke of one resident in particular who summed up her experience struggling with housing stability, "Most of the affordable housing she would move into would quickly raise the rent, or the neighborhood it was in was dangerous. When she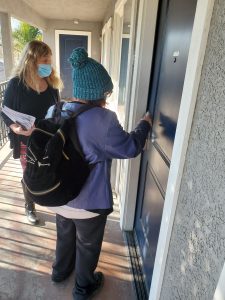 explained this cycle, you could feel the hopelessness of a person wanting to change in a system providing Band-Aids to the real problem, lack of affordable housing. We have many resources for homelessness but very few that provide permanent stability in an environment where a person can thrive and succeed."
After arriving at Harmony Village, this woman's life has changed for the better, explaining, "We are all on cloud nine here (Harmony Village). I open my door in the morning and say hello to everyone and it feels so good in my heart to see so many faces I was watching die to the hands of the devil down at the river, smiling here. We all have hope again."
Thanks to Habitat for Humanity Yuba/Sutter, Ferguson, and Good360, these residents have received a new lease on life.