12 Apr

Donations from Big Retailers Bring Cancer Patients to Tears

DONATION: TEMPUR-PEDIC MATTRESSES, THE HONEST COMPANY LIP BALMS, AND J.JILL CLOTHING

LIVES IMPACTED: 120

United Breast Cancer Foundation (UBCF) was founded in Huntington, NY with the mission to make a positive difference in the lives of those affected by breast cancer. Through seven programs we have been able to promote general health and wellness as well as financially assist patients, survivors, and their families. These individuals are often low-income and have little to no insurance.

UBCF held a Tempur-Pedic Mattress Donation Event a few months ago in Norton, VA. This is the fifth year that UBCF has provided mattresses to Southwest Virginia breast cancer patients, survivors, and their families. With the generous help of UBCF staff, volunteers, and local groups, 100 twin beds and 20 double beds were given away to families directly affected by breast cancer. Also distributed at the event were other items obtained through Good360 such as J.Jill clothing and The Honest Company lip balms.

Sleep plays an important part in the recuperation process of breast cancer patients and survivors, both physically and mentally. The unique foam of Tempur-Pedic mattresses is just what these patients need. Ms. Stephanie Mastroiani, UBCF's Executive Director, recently said, "The use of Tempur-Pedic mattresses can alleviate pain, reduce stress on joints and muscles, and provide a restful night's sleep, which is vital to the body's recovery from illness and stress."

Along with these mattresses, UBCF also provided families with clothing and shoes from J.Jill, as well as all-natural lip balm from The Honest Company. We received a large assortment of J.Jill sweaters, ranging in sizes that were able to fit everyone that we served.  These were bundled with a variety of shoes, in different styles and sizes.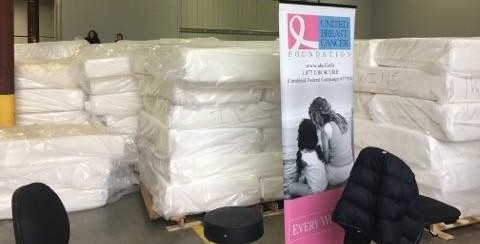 Bulk boxes of The Honest Company's organic lip balm finished off these holiday donation bags. Breast cancer patients undergoing treatment may not be able to regulate their body temperature or retain moisture in their body, especially in colder weather. The lip balms were just what they needed to moisturize their lips in the chilly months. These generous donations are essential in maintaining a healthful lifestyle, even when sick. Thanks to our relationship with Good360 and their donors, Tempur-Pedic, J.Jill, and The Honest Company, UBCF can continue our mission: to make a positive difference in the lives of those affected by breast cancer.
Website: www.ubcf.org