24 Mar

Donated Tablets Help Senior Citizens Register for Vaccine

Oaks Village is a Good360 nonprofit member whose mission is "to bring hope and restoration to individuals and families in the Monroe, Michigan community and beyond. We minister to the needs of all people regardless of their age, race, gender, or economic background."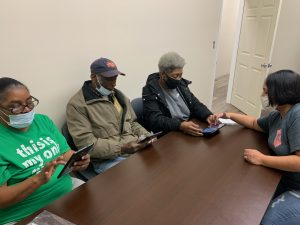 Thanks to donations made possible by Good360 corporate donor, Beacon Building Products, and 3R Technology refurbishing the tablets, Oaks Village distributed tablets to individuals in need. The electronic devices went to senior citizens who have been isolated due to the pandemic. The tablets allow recipients to connect with friends and loved ones on Zoom, as well as attend virtual church services and doctor appointments.  
The eldest recipient is 83 years old, and he now has a Facebook page he uses to stay connected with his friends and family. Additionally, two of the recipients were able to schedule their COVID-19 vaccination appointments on their tablets.  
Pastor Heather Boone of Oaks Village explains, "For two of our seniors with underlying health conditions these tablets helped them to get what they called the golden tickets." 
Thanks to Oaks Village, Beacon Building Products, 3R Technology, and Good360, these senior citizens can now live their lives more fully in an increasingly technological world and are one step closer to being protected from the virus.