10 May

Disney store Donations Help Spread Easter Cheer
Circle of Caring Friends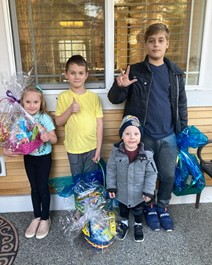 Circle of Caring Friends (CCF) is a nonprofit organization that assists individuals and families in need and experiencing hardships, helping them to get back on their feet. The Good360 Community Redistribution Partner (CRP) serves the greater Seattle metropolitan area, with the goal to "bring hope to the hopeless, vulnerable, underserved and overlooked."
Thanks to recent donations from Good360 donors, including toys from the Disney store, CCF organized the Easter Cheer Project to uplift members in the community. With the help of generous donors and committed volunteers, CCF put together over 100 Easter baskets full of toys, school supplies, personal care items, and sweets to bring to struggling families during the ongoing public health crisis.
A CCF volunteer explained that in addition to the necessities like school supplies, "the Disney store toys brought pure joy to many kids and parents." The receiving families were so grateful, one saying, "This is a sight of hope! We could not afford to make Easter baskets for our kids this year. This is truly an Easter miracle!"
Another family told CCF, "My kids have never had Disney toys. We could not afford to take them to this store. My daughter got a beautiful doll that she always wanted. This is amazing! Thank you!"
Thank you to Circle of Caring Friends and Good360 donors, like Disney, for bringing joy to children in need.