13 Apr

CVS Health Provides Clean Water to Texans Recovering from Devastating Winter Storms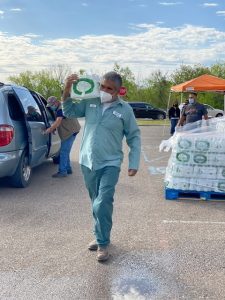 Winter storms are rare in the Southwest of the United States. No one was prepared for the snow and ice storms that hit Texas in late February 2021. Throughout the state, families lost heat, water, and power. Governor Greg Abbott requested a federal disaster declaration for all 254 Texas counties (100+ have been approved, to date). Many people watched as their homes crumbled from the weight of the snow.
Of all of the communities hit by the storms, smaller communities and apartment residents faced the worst of it. News sources reported that more than one million Texans were without clean drinking water in the weeks after the storm. So many individuals are still lacking resources and access to clean water. Recovery efforts will continue until families are placed back into homes and obtain the necessary resources to rebuild.
Thanks to the generous donation of drinking water from CVS Health, Good360 worked with Global Citizen USA to distribute clean water to families in Texas. Global Citizen is an organization comprised of engaged citizens working to end extreme poverty. Members focus on the systemic causes of poverty and work to take action on those issues. Global Citizen is a trusted partner of Good360 that shares on the same goals as our organization. On the day of the distribution, 452 cars came to the distribution site to pick up water between 9am and 2pm. The donation from CVS Health was distributed to more than 1,500 individuals.
Good360 is grateful to CVS Health for the generous donation, which was critical to helping families in need access clean water for drinking, cooking, and cleaning Thank you to Global Citizen for efficient distribution of this donation in multiple locations. Good360 is continuing to work with its partners to help Texans with the long-term recovery as a result of these severe winter storms.