13 Jan

Circle of Caring Friends Brings Holiday Cheer to Senior Citizens
Circle of Caring Friends Charity
Seattle, WA
Website: https://ccfcharity.org
Donor: Amazon
Lives Impacted: 100+
With many families unable to celebrate Christmas together in person, getting into the holiday spirit was a challenge for some. Circle of Caring Friends Charity (CCF) hosted their Christmas for Seniors Project to bring hope to those in isolated communities. As a Good360 Community Redistribution Partner (CRP), the organization distributes product donations to those in need throughout the Seattle-Tacoma area.
Thanks to generous donations from Good360 corporate partner Amazon.com and the Amazon FBA donations program, CCF delivered good cheer and essential goods to more than 100 people who had been financially impacted by the pandemic and senior citizens who have been isolated. Individuals received face masks, hand sanitizer, and seasonal attire including socks, gloves, and wraps. The act of giving these items lets recipients know they are thought of and cared for.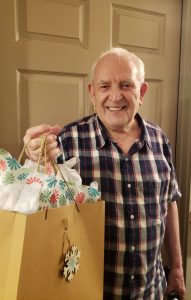 Nina is 94 years old and hasn't been able to see many people since the pandemic began. She was overjoyed by the gifts, saying, "I can't believe someone knocked on my door to deliver a Christmas bag full of much-needed necessities for me. Thank you for remembering old folks in these difficult times."
Another recipient lost her job due to the pandemic and was barely getting by, explaining, "Christmas was not something I was looking forward to. No money for anything, I rely on my older mom's financial support until I can find work again. The Circle of Caring Friends has been a Godsend to me and has lifted my spirits. Getting necessities and home essentials donated by Amazon is the best thing I have experienced for the longest time. Thank you all for helping me feel I can once again be a part of the holidays!"
Thank you to Circle of Caring Friends Charity, Amazon, and Good360 for spreading joy this season.