20 Nov

Brave New World: Nonprofits That Don't or Won't Collaborate Risk Becoming Irrelevant

The world is changing for nonprofits.

On the resource side, they face not only greater competition for donations and shrinking government support, but also more need from the communities that they serve. On the solutions side, for-profit entities with deep pockets are coming up with innovative ways to integrate social good into their enterprises.

In other words, the nonprofit sector no longer has a monopoly on the funding nor the tools necessary to tackle some of our biggest issues such as poverty, education, conservation, and disaster recovery — even as these challenges seem to grow year by year.

Meanwhile, all of this is happening against the backdrop of sweeping technological changes, from the rise of social networks to the near ubiquity of smartphones. New technology is enabling both nonprofit and for-profit groups to reach new audiences, raise awareness, crowd-source funding, and, most importantly, increase their impact by becoming more efficient and effective.

These mega trends are forcing social organizations of all kinds to rethink their traditional models of engagement. They are having to think outside of the box in terms creating new partnerships and alliances. Hence, there is a growing trend toward greater collaboration between nonprofits and other groups, including private-sector companies, government agencies, and like-minded not-for-profit organizations.

At Good360, we've long been champions of this multi-sector collaborative approach. Because of our unique nonprofit model serving as a philanthropic bridge between corporations and nonprofits, and our work in disaster recovery, our organization regularly seeks ways to better engage with groups outside of the nonprofit community.

"Nonprofits are recognizing that the problems and challenges we're all facing are rapidly changing," says Good360 CEO Howard Sherman. "In order to stay relevant and deliver on our mission and vision, we need to respond to the tremendous socio-economic, geopolitical, and environmental dynamics affecting our work here at home and around the globe. These changes demand that we re-think our operating principles as a matter of course. It means we need to see working across sectors not as an obstacle, but as an opportunity to drive more impact more efficiently and more effectively. It might mean sharing resources and working together in a way that doesn't feel comfortable at first. But the increasing magnitude of the challenges that we're facing demands that we do things differently."

This spirit of collaboration was most evident during the especially active hurricane season for the southwest United States and the Caribbean in 2017. With Hurricanes Harvey, Irma, and Maria slamming these regions in quick succession, no single organization or even a group of large nonprofits could possibly manage to address all of the disaster relief and recovery needs prompted by the intense devastation. For Good360, it was an opportunity to activate our extensive network of private, public, and government partners to collaborate around some huge logistical challenges.

In the aftermath of the Category 5 hurricanes, the U.S. Virgin Islands and Puerto Rico became humanitarian disaster sites. To get pallets of personal products, cleaning supplies, and nonperishable food items to these islands, we found several ways to assist the Salvation Army, which was one of the first NGOs to arrive on the ground in the region.

We connected organizers from the Salvation Army with logistics experts at UPS, one of our longtime corporate partners. This allowed the nonprofit agency to receive some really valuable intelligence regarding the logistical challenge of moving products into the storm-ravaged territory.

Then we coordinated with All Hands Volunteers, a volunteered-powered relief organization dedicated to helping people impacted by natural disaster, and the Salvation Army to assist with off-loading the pallets once they arrived in Puerto Rico and the U.S. Virgin Islands.

"We were able to identify the needs of both organizations and then collaborate on shipping and logistics so everyone could benefit," explained Tiffany Everett, Good360's Director of Disaster Recovery. "This collaboration also helped to reduce duplication of services. With all of these hurricanes happening one after the other, these national organizations are expected to be everywhere at once. It's just not possible. With resources stretched so thin, the only way to operate efficiently is to work together, and share resources and people."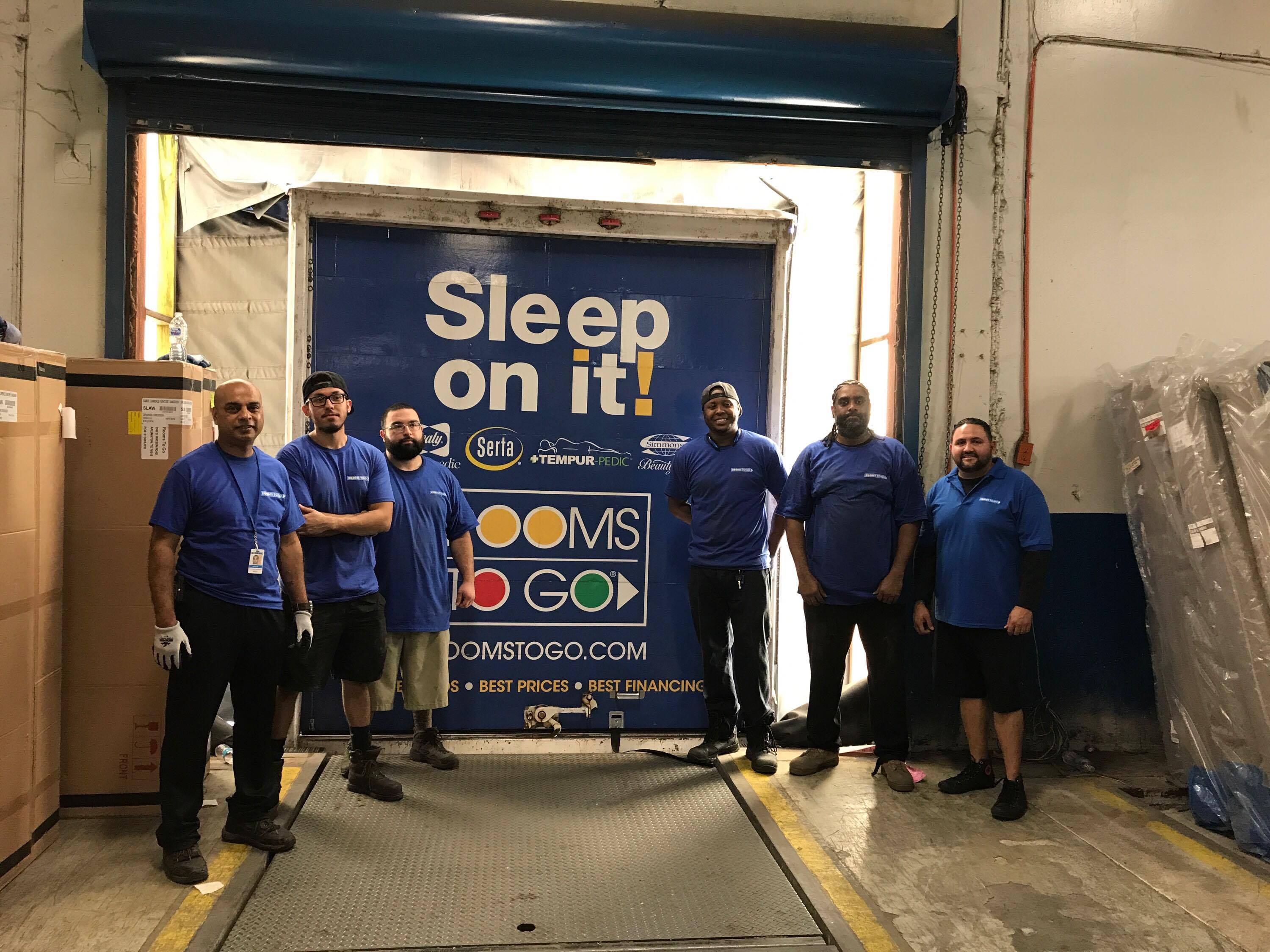 After Hurricane Harvey slammed Texas, the American Red Cross, working with members of the Dallas VOAD (Voluntary Organizations Active in Disaster), was able to resettle 80 displaced families into new apartments in Dallas. We partnered with furniture retailer Rooms To Go, to completely furnish the homes.
But the apartments still needed to be stocked with dishware and other kitchenware. One of our nonprofit partners, Texas-based Goodness Project, happened to have several pallets of dishes available that were donated from United Airlines.
One phone call later and Goodness Outreach director Bill Fletcher was driving these dishes over to the housing units in Dallas.
"Without this connection, the Dallas VOAD group wouldn't have known about the pallets of dishes that Goodness Project had on hand," Everett said. "They would have needed to buy them at retail, which would have been an unnecessary expense and taken away from other things they could be doing with those funds."
In another key collaboration with Goodness Project, a trusted partner of ours for more than 15 years, we were able to secure a donation of 300 twin mattresses from the Serta Simmons manufacturing plant in the Dallas area, and have them delivered by Goodness Project to shelters in need.
(The twin mattresses are an ideal size for shelters because they usually accommodate individuals sleeping alone. In fact, Simmons didn't have any twins available, but agreed to have them quickly manufactured especially for this donation.)
"This partnership would not have been possible without the willingness of a corporate donor committed to stepping up in a time of need, and a nonprofit organization with the logistical infrastructure to move physical donations of this size," Everett said. "This is an excellent example of how nonprofits can expand their impact by coordinating with corporate partners."
In other hurricane-related collaborations:
We worked with

International Orthodox Christian Charities to distribute

40 PlayRelief kits

from Hasbro to displaced children and families living in temporary shelters in Texas.

We coordinated with

Crayola and the Rick Anthony Athletic Foundation

to restock several Houston schools with

supplies, including pencils, paper, crayons, markers, colored pencils, glue, scissors, folders, and composition books.

We diverted a semi-truckload of donated products from Grainger to Toolbank USA, an Atlanta-based organization that equips thousands of nonprofit volunteers with tools such as power drills, hammers, and ladders every year. The Grainger items enabled Toolbank to better respond to Hurricanes Harvey and Irma.

We coordinated the shipment of diapers, shelf-stable baby food, and other baby products to facilities partnered with Childcare Aware, which helps families and childcare operators impacted by disasters.
In all of these partnerships, we've been able to act as the connection between nonprofits and for-profit corporations, balancing the requirements and needs of each side to get the right products to the right people at the right time. It's this spirit of cross-sector collaboration that we hope will be the model for many nonprofits as they navigate a new world of greater need, larger challenges, more limited resources, and bigger expectations from donors and supporters.
---
Tiffany is a dedicated nonprofit leader leveraging years of experience in program development and evaluation, promoting mission alignment and seeking new ways to engage the community to holistically serve individuals impacted by disaster. Tiffany received her Master's in Public Health from the University of Virginia and a Bachelor's of Science in Biology from the University of Maryland.