05 Jan

Housewares Donations Help Refugees Feel At Home

Seeking refuge and pursuing a better life in a new country is a difficult transition, not to mention doing so in the middle of a global pandemic. Global Executive Council Services (GECS) is a nonprofit organization whose mission is to support women, minorities, refugees, and immigrants to excel in life by educating and empowering them to reach their full potential. Based in Chicago, Illinois, GECS provides a wide range of services to help their clients meet goals of self-sufficiency and independence.

Without the support system of extended family or friends, many refugees and immigrants in the Chicago area are struggling to stay safe from COVID-19 and make a living while work hours are reduced due to the pandemic. Thanks to Bed Bath & Beyond's "Bringing Home Everywhere" program with Good360, GECS provided housewares to families financially affected by the pandemic. Recipients took home items such as bedding, linens, home decor, and seasonal items. These families are working hard to build a life in a new place, but many do not have the funds to furnish their spaces. With these donations, they are able to make it feel more like home.

Some of those who were seeking assistance had lost their jobs altogether due to the pandemic. These individuals received goods to help them through this time, including a father of three who received blankets and curtains.

Amira* is a Syrian refugee and a mother of five. Thanks to Bed Bath & Beyond, GECS provided her with blankets and protective gear to keep her and her family warm during their first winter in Chicago.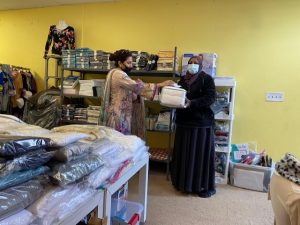 Fatima* is a university student who had only been living in the United States for a year when the pandemic hit and classes went virtual. Stuck in her dorm, she was able to make it a cozier place during such a stressful time.
Thank you to Bed Bath & Beyond, Good360, and Global Executive Council Services for making "home" a place of comfort through this difficult year.
*Names have been changed for privacy