31 Dec

Bed Bath & Beyond Donations Help Food Bank Change Lives

Good360 partners with food banks across the country to supplement their food distribution efforts with essential goods. Thanks to Bed Bath & Beyond (BBB) donations, Good360 supports the Community Food Bank (CFB) in Fort Worth, Texas. Rudy Taylor, the Chief Operations Officer of the nonprofit, is so grateful for the donated goods, "Let me say that the Bed Bath & Beyond donations have been our most popular and positive. Giving food is what we do but these donations have been something that has touched their hearts."

Taylor has seen with his own eyes how these items have changed lives. The donation from Bed Bath & Beyond allowed for one recipient to furnish her new apartment after leaving an abusive relationship and moving out on her own. Another woman came to CFB for assistance when her husband lost his job due to the pandemic and they had to move into a one-bedroom apartment with their five children. The food bank provided the family with bedding, hygiene products, cleaning supplies and other household items.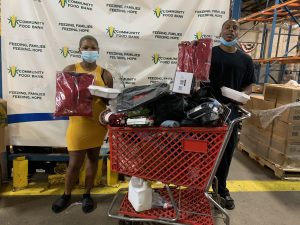 Community Food Bank's mission is to fight hunger and poverty in the North Texas area. With the help of partners like Good360 and Bed Bath & Beyond, the nonprofit is able to work towards eradicating the problem, holistically through feeding families and providing resources to lessen their financial burdens.
Thank you to Bed Bath & Beyond, Good360, and Community Food Bank.