27 Sep

360 VIEW: Good on the Ground – The Aftermath of Hurricane Harvey in Houston

On the last Friday of August, Hurricane Harvey made the first of its three eventual landfalls, wreaking mass destruction and causing catastrophic flooding from the middle Texas coast to western Louisiana and even points north before the storm finally dissipated over Ohio. Harvey dumped more than 40 inches of rain in many areas as the system meandered over eastern Texas and adjacent waters. The resulting floods inundated hundreds of thousands of homes, displaced more than 30,000 people and prompted more than 17,000 rescues.

With such widespread devastation and a succession of other natural disasters in the few weeks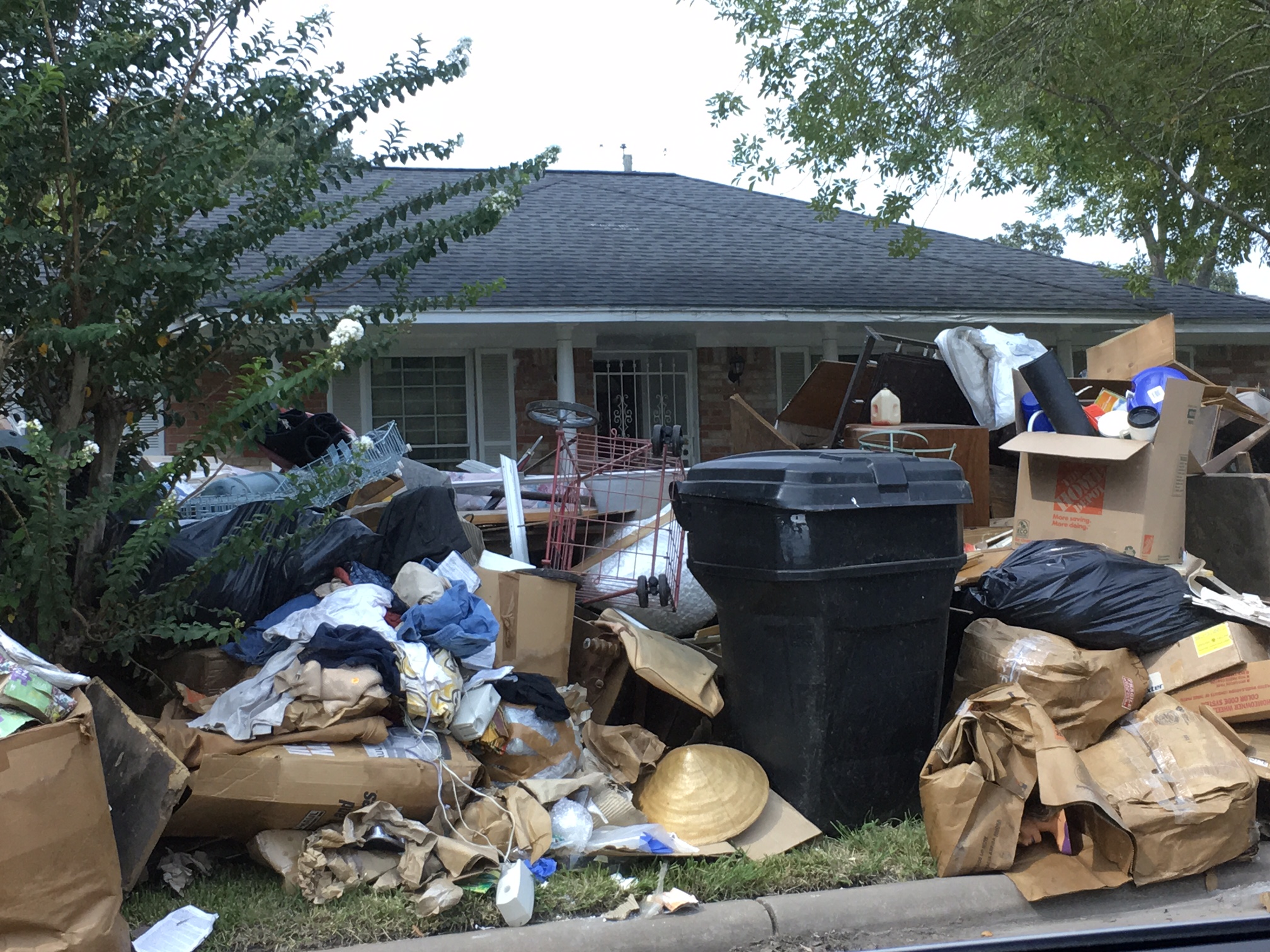 following, it can be hard to know what to do and how to help. Good360 moved into action and mobilized our corporate partnerships in order to help nonprofits and response agencies doing work on the ground to support impacted communities.  Less than three weeks after Harvey first hit, we were on the ground in Texas working with our partners.
Early in the morning of September 13, I arrived at George Bush Intercontinental Airport in Houston. Piles of debris dotted residential streets, clearly visible as we made our final approach.  A mountain of rubbish towered over the parking lot of a Hobby Lobby store. Other commercial locations displayed similar scenes. The damage was palpable and the sunny, beautiful day belied the nature of what thousands of Houstonians were confronted with.
Dan Gray, the site operations section chief for Good360 charity partner, International Orthodox Christian Charities, recounted the words of the Houston mayor from a volunteer's meeting a few nights earlier.
"What you do every day matters, but I'm going to tell you we're looking at 12-15 years of recovery for Houston," Gray said. "Just don't try to grab that all at once. Go right back tomorrow and do what you were going to do anyway."
IOCC has deployed teams to the Houston area to provide spiritual and emotional care for survivors and help in the field. The organization is an on-the-ground, in-kind distribution partner for Good360, deploying critically needed goods such as personal care items, toys, and diapers.  
The IOCC team was based in St. George's Orthodox Church and while we were there, the church auxiliary group had turned the kitchen into a beehive of activity for the monthly ritual of baking holy bread as well as lunch for church employees, volunteers, and the homeless. The president of the auxiliary told me that she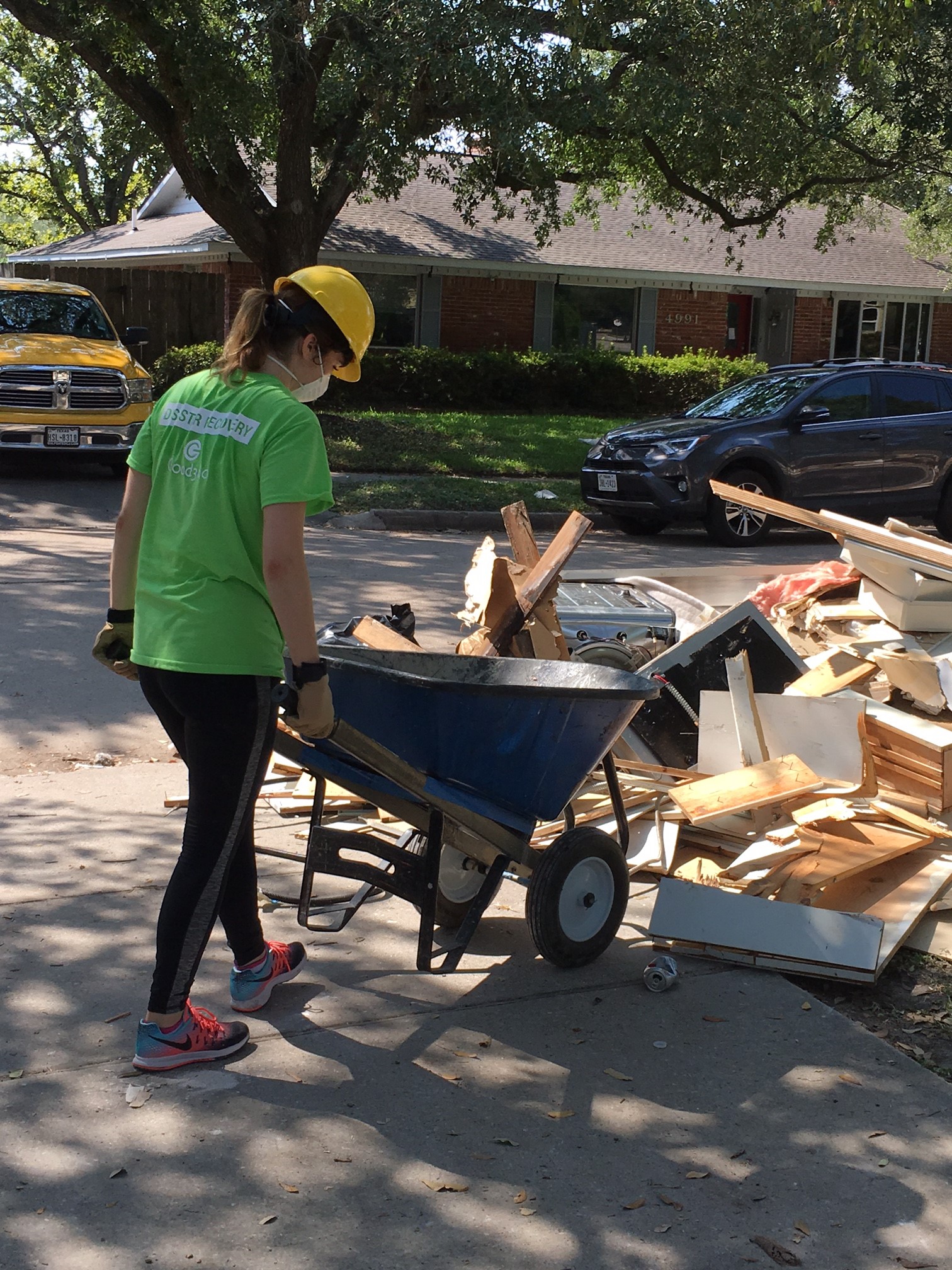 was in Lebanon during the onslaught of Harvey and couldn't get back to Houston. It was the first time she'd made a trip back home to Lebanon without her husband and two sons.  
She asked her family how things were and they told her everything was fine and sent her pictures to prove it.  She learned later that the photos they sent were old photos that showed no danger from the flooding.  In reality, it was touch-and-go, but her home ultimately came out fine.
Others were not so lucky.
Jo lives in the Meyerland neighborhood and we met her as we were on-site with All Hands Volunteers, mucking and gutting her house. Harvey was the third flood for her in as many years. She owns two homes side-by-side and both were heavily damaged by Harvey.  
Her 96-year-old mother is confined to a wheelchair and lives next door in a single-story home that easily accommodated her mobility needs — until it took on over four feet of water. Jo's family moved her mom to the two-story home next door. Over the course of the storm and flooding, eight people were trapped in Jo's second story. They were eventually rescued.
Another flood survivor, Mark, lives near the well-known Houston Energy Corridor just off Interstate 10. As we drove into Mark's neighborhood, we could see that the devastation there was the worst we'd witnessed so far in Houston. The debris piles were in front of every single home and they were bigger than anywhere else.
A car with a series of water lines marking its paint was still in the street. The water lines on the exteriors of the homes showed that the flooding engulfed the entire first floor of many residences and surged even higher on some. The prominence of the lines also revealed the length of time the water sat there. In fact, Mark confirmed his home was underwater for nearly two entire weeks. The floors were still wet inside.
Mark's neighborhood flooded not because of an overflowing bayou or other natural waterway, but because of the Army Corps of Engineers' decision to release water from the Addicks Reservoir just north of Mark's neighborhood. That fateful decision changed the course of hundreds of lives. Families in that neighborhood lost everything.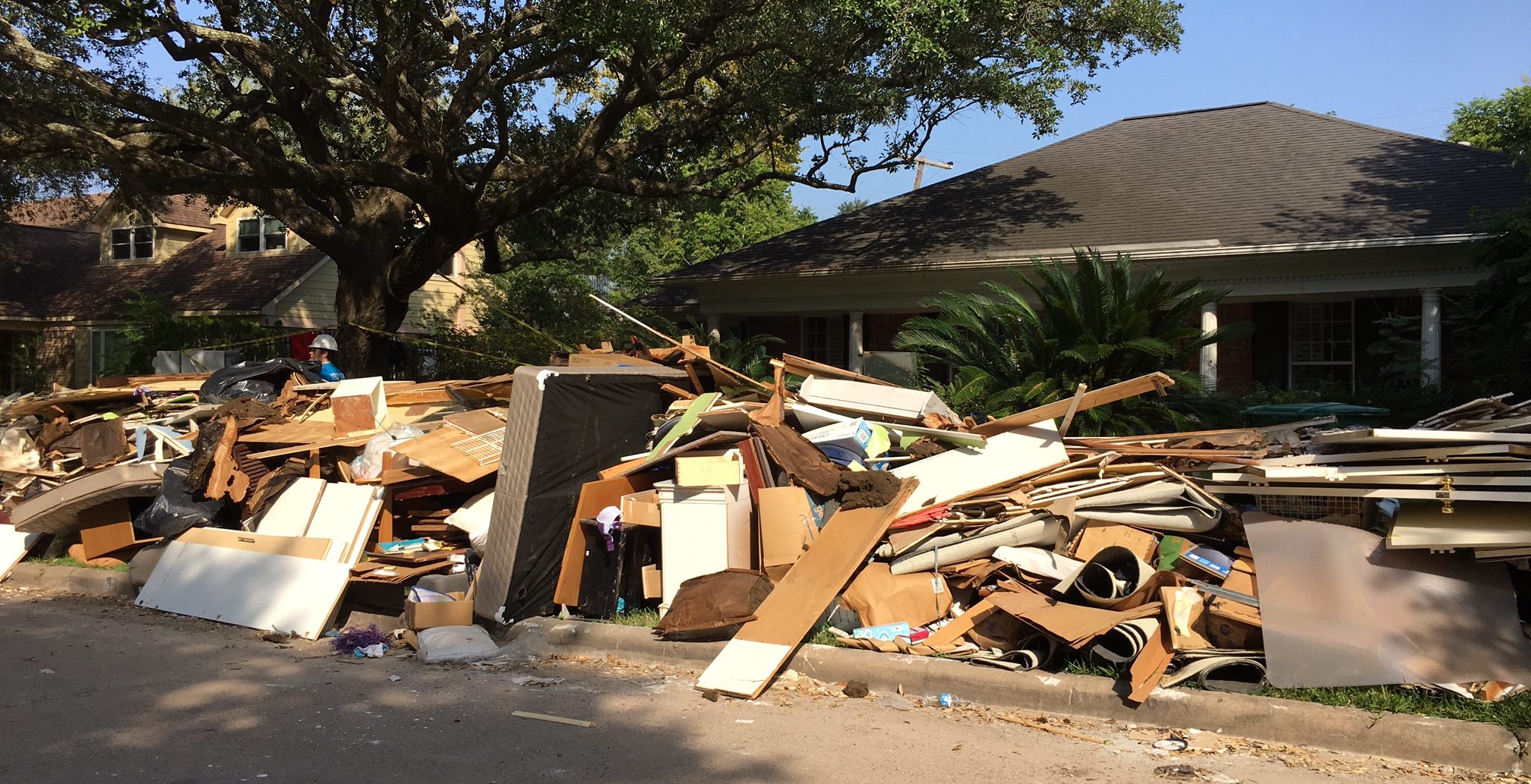 It is difficult to fathom a concept like "losing everything."  Among the detritus of impersonal things like slabs of drywall, rolled up carpets and non-working kitchen appliances, there were more personal reminders: a still-sodden copy of Jane Eyre, a Christmas tree skirt hung to dry, children's toys and furniture that had just weeks before played a role in the daily lives of families who lived in safe, dry homes.
As Mr. Gray from the IOCC stated, "Don't be daunted. But understand that recovery is going to be a long process, but all of you are going to be an important part of this, so play your part the best you can."
Good360 is committed to the long-term recovery of the regions impacted by Hurricanes Harvey, Irma and Maria, including the city of Houston. As of this post's publication, we have already distributed more than $5 million in products to survivors of Harvey and Irma, we continue to stage and pre-position goods for long-term recovery and are working with agencies to assess the needs of survivors of Maria.   
To learn more, visit here.
---