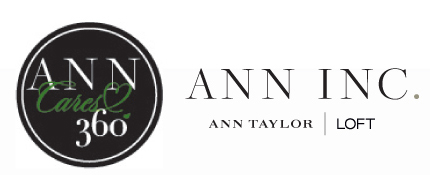 What is ANNCares360?
At ANN INC., we believe in operating our business responsibly. We are committed to investing in programs and innovations that minimize our impact on the environment while giving back to the communities we serve. To honor that commitment, we are proud to offer the ANNCares360 Store Donation Program in partnership with leading non-profit Good360*. This program will help us minimize waste in our operations and provide Store Managers with the tools to donate end-of season visual display and marketing items, as well as closing/remodel store items to service local charities in need.
Why ANNCares360?
Store Donations…
Enable ANN INC. associates to positively affect their community and serve those in need
Protect the environment by reducing the amount of waste entering landfills
Provide a responsible method for disposing of gently used store items; and
Allow vetted nonprofit organizations to increase their access to donations
How Do We Donate?
Please complete the online form and Good360 will contact you to facilitate the donation.
Need Help?
Contact Good360
Email: ANNINC@good360.org
Call: 1-703-836-2121
*Good360 is the nonprofit leader in product philanthropy, with more than 28 years of experience and $7 billion in placed donations.
Welcome To Your Online Donation Submission Page
For Store Material Donations: Store Managers should enter the donate-able items below. Instructions coming soon!
For Store Remodels/Closings:  Store Managers should enter the donate-able items below using the item names in the Closing Store Donation Checklist documents two weeks (2) prior to the store's last day of business. Partners will have two weeks to contact the store and arrange pickup of desired items. Any desired items must be picked up by the last day of business. Any items not picked up by the last day of business will be discarded by the close out vendor. For more instructions, ANN TAYLOR please click here and LOFT please click here.