Blue Skies Ahead Thanks to Nike

DONATION: NIKE SHOES
LIVES IMPACTED: 42
At Blue Skies for Children, in Bellingham, WA, our mission is to raise hope and self-esteem by sponsoring enrichment activities and other essentials for local homeless, low-income, and foster children. We provide a variety of services to children ages 6 to 18, one of which is donating shoes to those kids that need it most.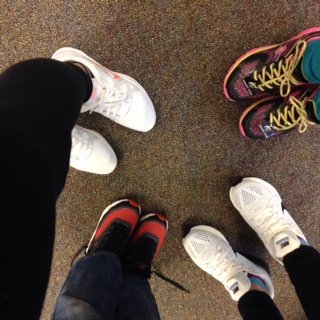 One of the biggest issues we face is children living in poverty and going to school with shoes that do not fit or shoes that have holes and do not keep a child's foot protected. Our shoe program helps children attend school with shoes on their feet that fit them and encourage them to be involved in PE, sports, and after school enrichment. Kids should be concentrating on school, not poorly fitting shoes. Or goal is to keep their feet comfortable, safe, warm, and dry.
Our families are so very grateful for the help we have received from Good360 and Nike. We have been able to help so many and each story is unique. We had an older child who was only able to participate in cross country because he borrowed a pair of shoes from his coach. Unfortunately, they were a size too big. We were able to provide a pair of shoes for him that were just right.  His mom was overjoyed and he was ecstatic to be able to run without a fear of tripping.
In another instance, a single mother came to a "Shoe Give Program" appointment with three boys between the ages of 7 and 14. When the boys walked in, we immediately noticed the 14 year old was wearing a pair of shoes that looked like they had been through a great deal of wear. The front of the shoes were completely open exposing his toes and part of his foot, and all layers of the shoe were coming apart. We asked him about the shoes and he told us that because his brothers were younger and growing faster than he was, his mother had to focus on getting them shoes more often throughout the year.  He said his foot had not grown too much and he could still fit into the shoes.
He picked out a new pair of shoes that fit him just right but hesitated to throw away his old shoes. The family thought maybe they should keep the shoes to possibly reuse the lace or insoles. Our volunteers reassured the family that they were beyond normal wear and tear and should be tossed. It was heartbreaking to see the boy walk into our office with those old shoes, but exciting to see him walk out, proud of his new shoes. All three boys left very excited about their new shoes, and the younger two were excitedly jumping, skipping, and "testing out" their new shoes! Thank you again to Good360 and Nike!
Website: www.blueskiesforchildren.org