08 Mar

How Good360 Helps Lift Up Women in Need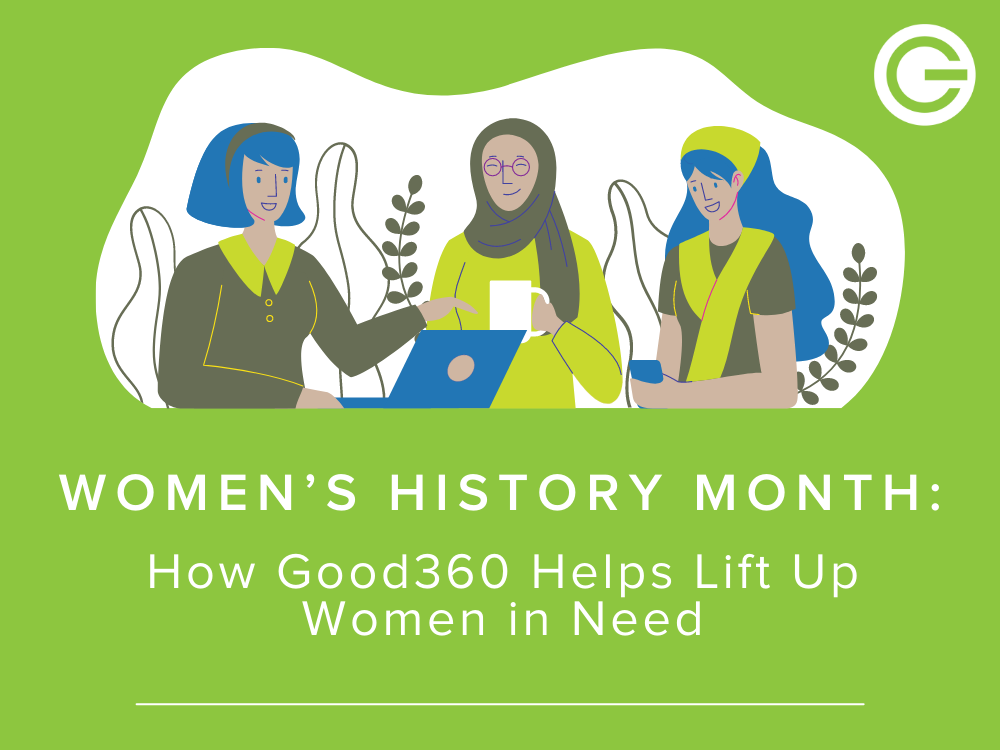 Women's History Month has been celebrated annually since 1987.
In 2022, this month of reflection on the contributions of women past and present arrives at an interesting juncture.
We are emerging from the worst of a global crisis that has disproportionately hurt women. Experts warn that the pandemic may have set gender equality back by years. Burnout is driving women to either cut back on their career ambitions or leave the workforce altogether.
Still, there are some bright spots. The gender pay gap is narrowing, at least for younger women. There are more female CEOs than ever before. (This includes Romaine Seguin, who is taking the helm at Good360 as our latest—but not first—female chief executive.) In 2021, Kamala Harris became the nation's first female (and Black) vice president.
Of course, we know there's a lot more work to be done. At Good360, one of the most important ways we address the "need gap" in America is to support organizations that specifically help to lift up women, including those in leadership positions, in domestic violence shelters, in low-income communities, and in times of disaster.
Here are three stellar organizations within the Good360 nonprofit network that are doing just that.
Helping women overcome abuse—and systemic racism
Founded and led by survivors, Women's HQ serves women of color who have experienced domestic violence and sexual assault, and are living in or transitioning from the shelter system in the Washington, DC. area.
These women not only have to overcome the trauma of abuse, they also need to overcome the burden of systemic racism that have kept many of them from getting the education and skills they need to thrive, says co-founder and CEO Kimberly Harris. Racial biases also play a role in determining whether or not these survivors get the assistance they need after enduring an abusive relationship.
"We help women of color get the services they need to cross the bridge from trauma to triumph," said Harris, who talks openly about her own journey from domestic violence. "They need shelter care that becomes housing, as well as career enhancement so they can make a livable wage and get out of poverty. Unfortunately, the systems that we have don't always work for women of color."
Good360 partnered with Women's HQ to put together and distribute thousands of "survivor comfort kits" filled with personal hygiene products, cosmetics, socks, cozy blankets and other selfcare items.  
"A soft blanket or pillow can redirect trauma, even for five minutes," Harris said. "It sounds odd, but this is the reality of someone who has experienced trauma. A woman in a domestic violence shelter really appreciates being surrounded by things that make her feel safe and pampered."
Lifting up women and families living on the edge of poverty
At the United Way of Westchester and Putnam (UWWP), in New York state, there's a big focus on what nonprofit leaders there call the ALICE population: Households that earn more than the federal poverty level, but less than the basic cost of living in these counties.
ALICE stands for Asset Limited, Income Constrained, and Employed. ​​In Westchester and Putnam counties, 4 out of 10 households belong in this category. They live paycheck to paycheck or in poverty.
The UWWP serves this population through a number of social services, including its Essential Goods for Basic Needs program. With products sourced through Good360, families are able to get access to baby items, books, bedding, clothing, electronics, home goods, personal care items, toys and school supplies. These donations allow families in need, including many single mothers, to divert their limited budget toward more crucial expenses such as rent and utilities.
"We know that when families are financially secure, they are healthier and children do better in school, and our community is stronger," said Rebecca Snyder, UWWP's director of special events and development. "Self sufficiency is the key. We're giving them the tools to be successful."
The UWWP's Women's Leadership Council also actively recruits business leaders in the community who can mentor other women. The council's annual event, Take a Walk in Her Shoes, raises awareness and financial support for ALICE families.
"Single women households have a lot of strikes against them already," Snyder said. "They are hardworking women who are trying to raise their families and trying to be financially independent."
Recognizing and supporting women in the military
The contributions of women in the military throughout history are plentiful, but often overlooked. But a group that is even more overlooked are women who are transitioning or have transitioned out of the armed forces, and are trying to support their families in the civilian world—sometimes without the help of partners.
That's where Foundation for Women Warriors (F4WW) comes in. The 101-year-old nonprofit organization is dedicated to honoring and empowering female veterans. Its mission is to serve women veterans and their children so that "their next mission is clear and continues to impact the world."
The foundation provides emergency financial assistance, professional development and COVID-related help. It also operates an "essential goods warehouse" in Southern California with products provided through Good360.
Many women put their education on hold to serve and join the military right out of high school. Those that make the decision to leave the military, typically don't return to their home state and are faced with finding work, attaining an advanced education, and for those with children, finding suitable childcare. That means those with children, end up without the support of their family nearby.
77% of the clients who come to FFWW are single mothers, said chief executive officer Jodie M. Grenier, a veteran of the U.S. Marine Corps. 
"When you go from having a support system in the military to being thrust into civilian life, the transition can be solitary, especially for women who are seldom recognized as veterans. This is especially difficult for the single parents we serve," she said. "They have to go back to school. Most of them transition out of the military in an area where they don't have family who can help out. Meanwhile, the cost of childcare in San Diego, for example, is triple what it might cost families living on base.
"We prevent homelessness and keep women veterans and their kids in their homes and financially stable," Grenier added. "We create a community of women warriors to support each other because you don't automatically fall into some kind of sisterhood once you transition out."
The foundation assists some 1,100 women and children each year, and is on track to expand that impact this year by 20%.