02 Dec

Why More Foundations Are Focusing on Local Communities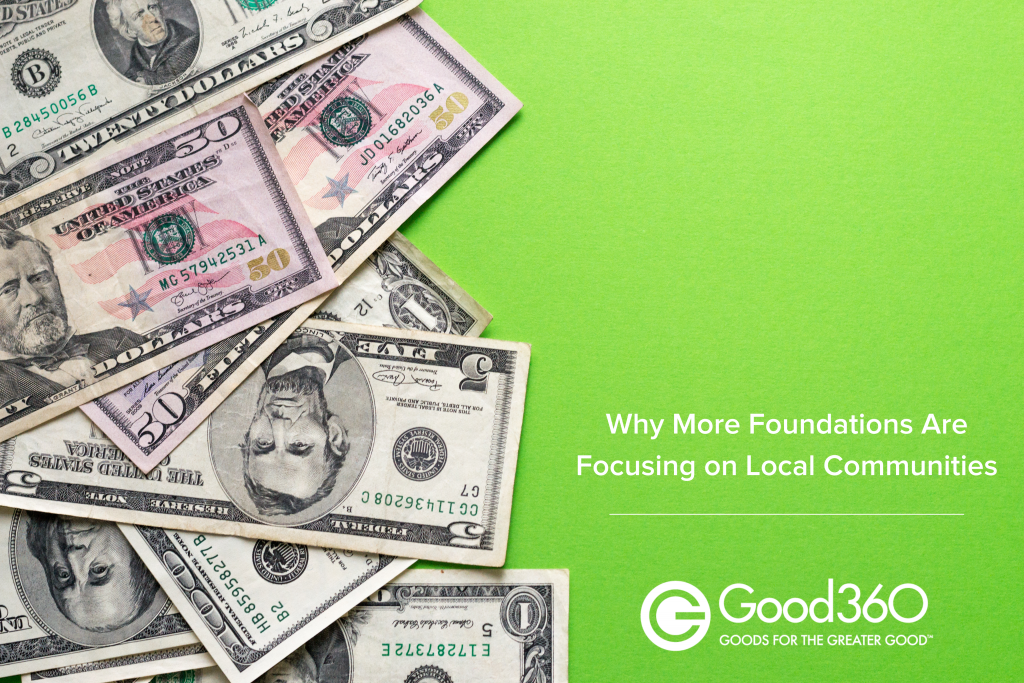 Why More Foundations Are Focusing on Local Communities
Philanthropists and large foundations are naturally excited by the prospect of solving huge global problems. 
They're looking to implement solutions at scale, and they want to see a significant return on their investment. These requirements often spur major foundations to go abroad to fund projects in the developing world.
But increasingly, we are seeing more grantmakers turn their attention back home and invest in local communities. This bodes well for community-based organizations and those tackling social issues on a regional basis.
Read on to learn more about this trend and how to position your nonprofit to take advantage of it.
A once-in-a-lifetime public health crisis
The impact of the COVID-19 pandemic created an urgent need for response unlike anything we've seen in philanthropy in decades. In 2020, Good360 had its busiest year ever as we distributed more than $870 million in needed goods, much of it for COVID relief.
The crisis prompted major foundations to loosen up their restrictions and requirements. Many began distributing no-strings-attached cash grants to give nonprofits the most flexibility in assisting people in need. Community nonprofits saw an influx of dollars because they were often the best "boots on the ground" in a position to respond.
The takeaway: If you can be nimble and position your organization to respond quickly and effectively to an urgent need or crisis, this will help you garner more attention from large grantmakers.
The democratization of decision making
Power in philanthropy is shifting. Even the biggest foundations are realizing that a top-down approach may be isolating them from the very communities that they are trying to help. As a result, decision-making processes are becoming more inclusive.
That's why you've been hearing more about "participatory grantmaking." This approach aims to create more accountability, transparency, trust and impact as voices from the target community are included in the grantmaking process.
"If philanthropic decision-makers do not have sufficient connection or access to the lived experience of the people we seek to benefit, the quality of our decision-making will suffer and our impact and legitimacy will be lessened," wrote the Ford Foundation in a recent paper on its own attempts at participatory grantmaking.
The takeaway: Put your organization in a position to engage with foundations on a deeper level. If you haven't already researched participatory grantmaking, now is the time to learn. As a starting point, Candid offers a good guide called "Deciding Together: Shifting Power and Resources Through Participatory Grantmaking."
The rise of place-based philanthropy 
In place-based philanthropy, grantmakers focus on a particular geographic area that may encompass a few counties, municipalities or even a single neighborhood.
Often, funders will look for local organizations to partner with, while taking on a cross-sector approach to identifying and solving the root causes of a social problem directly affecting that community. At the core of place-based philanthropy is the realization that money alone can't solve even the biggest problems, and that the people closest to the problem are also closest to the solution.
The takeaway: National funders are always looking for "places" to put their dollars to work. But to do so effectively, they need to work with local partners. Position yourself to be one of these partners. Be open to collaboration, even with "competing" nonprofits. Consider how your organization's work can be seen through the lens of place-based philanthropy and make a case for it.
A greater focus on communities of color
The national reckoning we witnessed in the aftermath of George Floyd's killing also sent shockwaves through the world of philanthropy.
There's a growing realization that even more needs to be done to understand and address the systemic barriers that keep communities of color in perpetual crisis. 
As a result, millions of dollars are being poured into organizations that are focused on BIPOC (Black, Indigenous, and people of color) communities. Often, these are grassroots organizations rather than large, national outfits.
The takeaway: If your organization focuses on a particular BIPOC community, now is the time to approach foundations for funding. Be prepared to show data and results that make a strong case for your organization's ability to drive sustainable change. It's also important to look at representation within your organization itself to make sure you can effectively include perspectives that are important to communities of color.
If you represent a nonprofit focusing on a local community, there's no better time to get in front of foundations and philanthropies. Read our blog post on "Why Every Nonprofit Should Seek Foundation Funding in 2021."
They are eager to find the right partner on the ground to work with. Consider how you can better position your organization to take advantage of this prime opportunity. The right partnership could be transformative for your nonprofit—and the community that you serve.