04 Feb

Why Good360 Charges Administrative Fees and How They Help Nonprofits Do More

In 2020, Good360 distributed more than $700 million in essential personal and household products — doubling the impact we made in 2019, as measured by the volume of goods. (Be sure to take a look at our 2020 Impact Infographic to see all of the good we did last year.)

It would not be possible for us to distribute goods at this scale without the generosity of our corporate donors. It also couldn't be done without the modest administrative fees that we collect from our nonprofit members which help cover the shipping, handling and processing of the donated goods we manage. Sourcing donated items through Good360 means that nonprofits can save money and put more funds towards their programs and services. 

Why would a nonprofit pay administrative fees to receive products that are donated to Good360? That's a very good question and it's one we get asked often.

The short answer is that there's actually no such thing as a "free donation." We need to collect fees to help offset our own expenses for getting these items to nonprofit organizations that request them. For a more detailed explanation, read on.

The Good360 model of reaching out to corporate partners for donations and matching these in-kind gifts with eligible nonprofits is a complicated one and requires a complex system of experts, vendors and facilities, which incur numerous "hard costs" that aren't immediately apparent to our nonprofit members when the process runs smoothly.

Transportation: To move hundreds of tons of donations in any given year, we contract with trucking companies and air carriers to ship these products to our nonprofit partners who, in turn, get them directly into the hands of people in need. Transportation is by far our biggest expense. In 2020 alone, we delivered millions of items to thousands of nonprofits and charities across the country. Our Direct Truckload Program facilitated the distribution of more than 2,700 truckloads of large-quantity products directly from corporate donors to nonprofit organizations.
Since Good360 also responds to major disasters, we sometimes need to pay above-normal transport costs to get goods to a challenging location urgently. These transportation costs can fluctuate widely (rates in December are often pushed up because of holiday demand for carriers), so we work with multiple brokers to find the best deals. We also secure grants to help fund some transport costs.
Collection and Sorting: Our National Distribution Center in Omaha, Neb., is responsible for receiving, sorting and packing thousands of pallets of donated product every year. Established in 2012, our facility centralizes an operation that once spanned 12 different warehouses located around the country. Donations arrive by the truckload daily. Our staff then breaks down the shipments into more manageable cartons and prepares them for shipment to other parts of the country. Our ability to configure large-scale donations into smaller volumes means that donated goods become more accessible to a wider range of nonprofits.  
We also operate a Nashville-area facility where additional sorting, packing and shipping takes place. We have partnered with both donors and with nonprofits in other regions on both short- and long-term warehouse arrangements to optimally position ourselves to deliver the right goods to specific communities based on need. This is especially relevant when serving areas vulnerable to or impacted by natural disaster events.
Technology: Each year, Good360 makes significant investments to maintain and improve the technology that underpins our social impact programs. For example, we recently upgraded our online donation catalog to make it easier for registered nonprofits to find and access the products that they need to support their operations and programming. We also added cryptocurrency to our giving platform to open up more ways for people to contribute to our mission.
People Power: Although we run a lean organization, coordinating the distribution of hundreds of millions of dollars worth of goods each year requires a team that's distributed across the country. You can find them at our National Distribution Center in Omaha, at our headquarters in Alexandria, Va., and out in the field following a major disaster.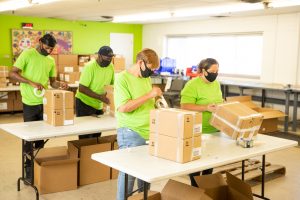 Good360 has a small team of professionals who actively seek out donations, build long-term relationships with our corporate donors, and help those companies design giving solutions with optimal impact. We need people to run the various Good360 programs that allow local nonprofits to do more by giving them better access to donated goods. These include our Community Redistribution Partners program and our Retail Matching Partnership program. We also need people to enforce compliance rules so that our corporate donors will continue to trust us to do good by their donations.
Lastly, we believe administrative fees promote accountability and encourage our members to treat the donations as an important investment for their organizations. Nonprofits can still access products at pennies on the dollar compared to what they might pay at retail. 
In fact, in 2020, we helped our nonprofit partners save more than 98% on the goods they acquired through us. The cost-sharing helps everyone by ensuring donated goods are used properly and supports our efforts to empower more nonprofits and charities.
If you're a nonprofit organization that isn't already registered with Good360, you can do that now for free. Good360 members get access to our online catalog of available products as well as our other donation programs. Sign up here.