03 Jan

What We Did in 2021: Good360 Distributed More Than $1 Billion in Donations for the First Time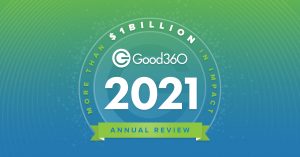 As the COVID-19 pandemic roiled the country and the world, Good360 responded to an unprecedented level of need and distributed more goods than we had ever done in our 38-year history.
That is, until 2021 came around.
This year, Good360 crossed the $1 billion mark for the first time. That's right. We distributed a billion dollars worth of needed goods to communities all across the country and the world. That means that, throughout the history of our organization, we've distributed well in access of $11 billion in goods to people in need. 
We could not have achieved this level of scale without the significant investments in technology, logistics, and warehousing that we've made in recent years. And, of course, we need to recognize the generosity of our corporate donors, the relationships with our nonprofit partners, and the tremendous work of our staff and volunteers that made this milestone possible.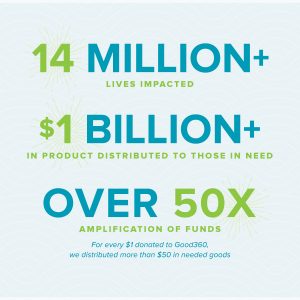 Read more about our momentum in 2021 here.
A clearer mission comes into focus
Our billion-dollar achievement coincides with work we have done internally to refine, clarify and communicate our mission. A clear purpose helps everyone, from employees to partners to donors, understand what we're trying to accomplish and how they can contribute to the cause.
Here's how we see our mission today: We live in a world of plenty, yet millions of people find themselves in critical need every day, creating a vast "need gap." At Good360, we are on a mission to close this gap. We know there's more than enough to go around. That's why we work to get donated goods to where they can do the most good, to close the need gap as effectively as possible.
In doing so, we create more opportunities for everyone, while empowering corporate donors to use their goods for good, nonprofit organizations to better serve their constituents, and communities to become more resilient.
(Read our blog post on closing the need gap.)
All the good we did in 2021, by the numbers
A billion dollars is a hard number to grasp, so here are some other ways to quantify the impact that Good360 was able to make this year:
In collaboration with our corporate donors and nonprofit partners, our products managed to touch some 14 million lives

For every dollar we received, we distributed more than $50 worth of product to help those in need

Every minute at Good360, 190 critically needed items are distributed, closing need gaps for 30 people, and giving 236 pounds of goods a new life

All together, we extended the lives of more than 8,000 truckloads of goods, giving more than 100 million pounds of items a useful, second life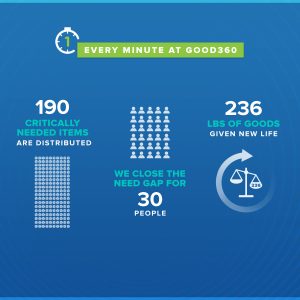 Responding to the most urgent needs in disaster
Disaster response has been a cornerstone of Good360's mission for years. In 2021, we activated our donor and nonprofit network to respond to more than 20 major disasters throughout the U.S. and abroad. These included:
Distributing critically needed goods such as blankets, water, gloves, socks and nonperishable food in response to the unexpected cold freeze caused by Winter Storm Uri in Texas

Providing transportation and goods for over 10 shipping containers of donated products in response to the 7.2 magnitude earthquake that struck Haiti in August. These items included tents, tarps, PPE, water, nonperishable food, hygiene products and other basic goods.

Assisting residents of the Caribbean island of St. Vincent after the eruption of the La Soufriere volcano. We distributed more than 10 shipping containers of critically needed supplies to help some of the more than 16,000 people displaced by dangerous hot ash.

Helping residents in Louisiana recover from Hurricane Ida, which struck the state 16 years to the day after Hurricane Katrina

Sending relief supplies to residents suffering through one of the worst wildfire seasons on the West Coast in decades. This included the Dixie Fire in northern California, one of the most devastating fires on record.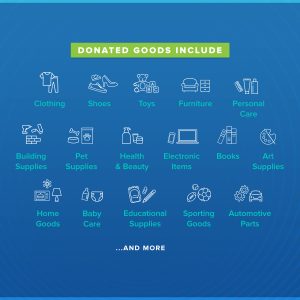 Empowering sustainability while providing hope for people in need
As companies continue to evolve their corporate social responsibility (CSR) and environmental, social and corporate governance (ESG) strategies, our goal is to be the core nonprofit partner that allows them to donate goods as frictionlessly as possible while driving the greatest impact.
At the end of the day, we all share the same goal: to remove the barriers that prevent people in need from reaching their boundless potential, while supporting the circular economy and preventing as much waste as possible.
In 2021, together with our corporate donors and nonprofit partners, we did that to the tune of $1 billion and more in product donations. We look forward to closing the need gap even more and creating more opportunities for everyone in the years to come.
See the full infographic, here.