20 Mar

VIDEO: Rebuilding Baton Rouge: Good360 Helps Restore Homes Devastated by Epic Flooding

On August 11, 2016, a storm system situated itself over southern Louisiana and proceeded to dump a torrent of rainfall on the areas surrounding Baton Rouge and Lafayette.

If anything could be described as being of biblical proportions, this was it. Over three days, the storm would produce more than three times as much rain in Louisiana as Hurricane Katrina did. The town of Watson, Louisiana, endured more rain in four days than Los Angeles received in all of four years, according to the Weather Channel.

The resulting catastrophic flooding damaged more than 40,000 homes and took at least 13 lives.

Yet today, the storm damage is a distant, if not completely forgotten, memory for most Americans even as many families in the Baton Rouge area are still reeling from its aftermath some 18 months later. Despite the record rainfall and flooding, it remains the "no-name storm" of 2016.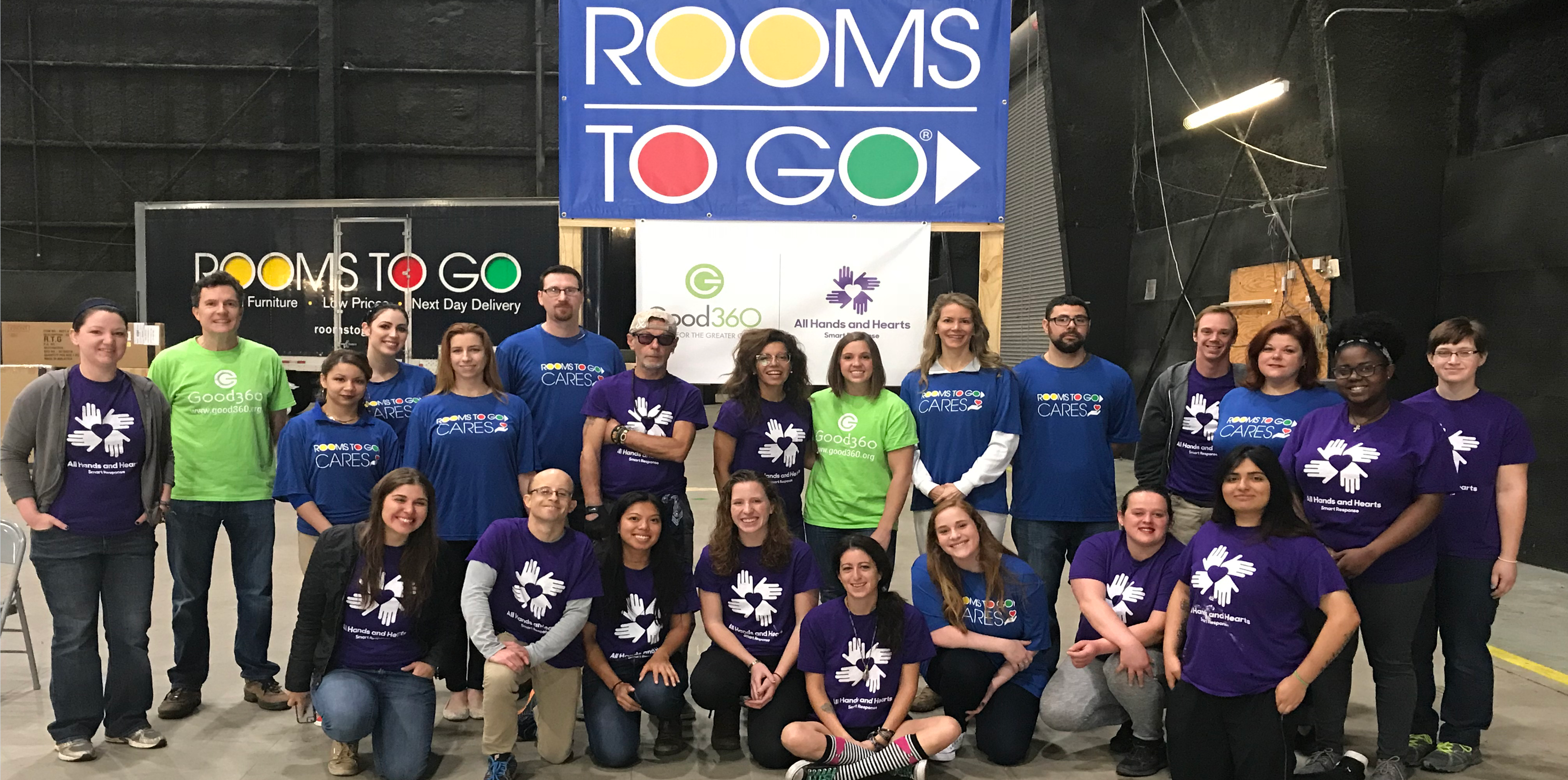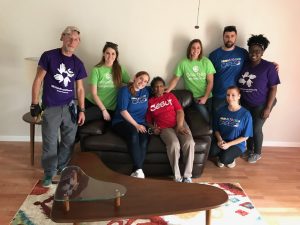 Since the disaster, Good360 has activated key partnerships to help respond to the ongoing needs of the community. Knowing that a catastrophe of this magnitude requires a years-long recovery, we have been focusing on getting the right goods to affected residents throughout the lifecycle of the multi-billion-dollar disaster.
In the early aftermath of the flooding, we sourced nearly $1 million in critically needed goods, including drywall, insulation, lumber, tools, clothes, cleaning supplies, and school supplies. These materials helped get hundreds of families through the initial mucking-and-gutting phase of the disaster so they could begin to rebuild their homes.
By February of this year, we were able to participate in the restoration of dozens of homes by partnering with All Hands and Hearts — Smart Response.
With the intention of "arriving early and staying late," the organization's mission to accelerate the rebuilding process for communities post-disaster mirrors our own focus on long-term disaster recovery. By sharing resources with All Hands and Hearts, and collaborating on projects for the long haul, we believe we can make an even bigger, more holistic impact on disaster-hit communities.
All Hands and Hearts was formed in 2017 after co-founders David Campbell and Petra Nemcova decided to merge their respective organizations, All Hands Volunteers and Happy Hearts Fund. Nemcova, a Czech model, famously survived the 2004 tsunami in Thailand by clinging to a tree for eight hours. After that ordeal, she established Happy Hearts Fund to rebuild schools in disaster areas.
All Hands and Hearts focuses on engaging trained volunteers to provide direct assistance to build "disaster-resilient" schools, homes, daycare facilities, and other community infrastructure. Similarly to Good360, the organization takes a long-term approach when necessary, encouraging its volunteers (who often live in the communities that they serve) to uncover innovative ways to think about recovery and renewal.
"This partnership embodies one of Good360's core beliefs – the importance of collaboration," said Good360 CEO Howard Sherman. "Disaster recovery is complex and multi-faceted and no single organization can solve the challenge on its own. For Good360, partnerships like this one enable us to deliver on our mission of providing the right goods to the right people at the right time during any stage of a disaster."
In flood-ravaged Baton Rouge, All Hands and Hearts was able to secure funding and mobilize enough volunteers to rebuild 40 homes.
When our organization realized that 30 of these families needed furniture to turn their rebuilt houses into homes again, we turned to a corporate partner with a long history of philanthropy — Rooms to Go.
In the aftermath of Hurricanes Harvey and Irma, the Florida-based furniture retailer pledged to donate $2 million each to the disaster response. It also committed to providing enough furniture to outfit 2,000 rooms for families in need.
We approached Rooms to Go about furnishing the 30 finished homes that were sitting empty, and the chain immediately responded. From its warehouse in Florida, the retailer loaded up three tractor-trailers full of furniture and sent them to Baton Rouge — along with a team to help unload the items.
Before the trucks arrived, All Hands and Hearts contacted each of the families to understand their specific needs. A list was created for each home, detailing what furniture would be needed in every room.
We also worked with the American Logistics Aid Network (ALAN) to find a suitable place to "stage" the furniture so that the families could browse the offerings and pick out their furniture. Celtic Studios, a film and TV production facility in Baton Rouge, stepped up to provide a large stage to do this.
Needless to say, the affected families were ecstatic to receive the donated furniture, enabling them to move into their restored homes without the huge financial burden of fully furnishing them. Some of these residents had no choice but to literally sleep on the floor while they waited for the new furniture to arrive.
Our work in Baton Rouge highlights the impact that we can make when we take a long-term, holistic approach to disaster recovery. This event would not have been possible without donations and assistance from several generous donors including: Rooms to Go (furniture), StoreBound (kitchen tools and appliances), Bed Bath & Beyond (tablecloths, paper products, blankets, and baby items), Target (pillows), and United Airlines (bowls and plates). By working with key partners and determining the specific needs of impacted communities, we can ensure that donated goods are sourced and sent out when they can be put to their best use.
In Baton Rouge, that means 30 families now have fully restored and furnished homes that were once inundated with dangerous flood waters.